Best Dutch Betting Sites
Population: 17,000,000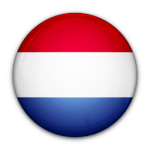 Active players: 8,900,000
Currency: Euro
Gambling products under regulation: Poker, sports betting, land-based casinos, horse racing, and lotteries
Operator types: Unlicensed betting sites, sports betting monopoly (De Lotto), brick & mortar casino monopoly (Holland Casino)
Designated authority: The Netherlands Gaming Control Board (Kansspelautoriteit)
Status: Not regulated. Betting sites are prosecuted when operating in the Dutch language
The Netherlands is considered one of the most progressive nations around the globe, especially in terms of culture and economic terms. Being the birthplace of legendary Johan Cruyff and total football, the Dutch holds liberal views on a majority of everyday aspects since the Dutch heritage celebrates freedom of action and diversity. Sadly, despite all these, the government of Netherlands seems to have lagged on grounds of appropriate gaming regulation and has continued to hold an outdated view that the government should be the only gambling provider. However, for local punters there is some reprieve courtesy of a new licensing system awaiting implementation which will give permit local and off-shore bookies to operate in Netherlands. The Senate has passed this bill and it's expected to take effect in the year 2023, a time when bookmakers will be allowed to apply for a gambling license. But as of now, the NGA has not made an official announcement of the date, a move that has seen players placing their bets through international online bookmakers.
Betting in Netherlands – 5 things to be aware of
New gambling laws will take effect sometime in 2023
You can bet on your favorite sports anytime you feel like
The Dutch government has tried in vain to block access on iGaming operators
There's no legal action that has ever been taken on players
Player winnings aren't taxed. Only a 29% tax applies to winnings coming from local betting sites
Best Betting Sites in Netherlands
Without taking you round in circles, it is at this point that we present to you some of the best bookmakers that the Netherlands has got to offer as the locals would say. These sportsbooks accept Dutch players having been selected based on the competitiveness of their odds, the collection of markets, and the acceptance of local banking options. We also consider those that offer enticing promotions and offers such as a welcome bonus.
Online betting/playing in the Netherlands
Betting enthusiasts in the Netherlands enjoy online betting freely with attempts by the country's lawmakers to block payments on for foreign-based bookmakers proving a futile exercise. The only restriction that seems to have succeeded is on grounds of website language in addition to offering iDEAL as a payment option. In the past, Kansspelautoriteit issued warning that it would heavily fine betting sites offering their sportsbook in the Dutch language. There's another restriction that was also passed by the government banning international "online goksites" from advertising their products to players located in the Netherlands. Currently, though, there's a lack of an effective licensing system meaning that bookies have got no financial or legal obligations towards the government and can accept bettors from all parts of Netherlands.
It is expected that the impending Remote Gambling Act will revolutionize Holland's iGaming market as such is intended to follow the footsteps of Spain. Here, every operator will be required to pay a standard 29% tax on Gross Gaming Revenue (GGR). Besides GGR tax, the operators will be required to remit a 2% contributions to the Gambling fund and NGA if they are to be awarded a five-year license. Better yet, Dutch lawmakers will lower up to 20% the requirements, a move aimed at allowing increased competition in this market. While such may appear too much financially speaking, operators that are considering establishing such a business in the Netherlands must take note of the country's excellent GDP per capita that has been very appealing. Put in simple terms, the Netherlands is an attractive market for betting operators and as such, we expect reputable brands such as Unibet and bet365 to apply for a license when the door for such will be made open.
What's the legality of Dutch players playing online?
Local players can get easy access to a wide number of online bookmakers from all parts of the world. Better yet, The Netherlands Gambling Authority doesn't restrict any online gaming, meaning that a player engaging in online gaming cannot be prosecuted. However, this is also an indication that players are unprotected in the face of rogue sportsbooks since the current rule and regulations do not guarantee them of financial security. But again, such is expected to change come 2023 with the Remote Gambling Act expected to heavily fine and even revoke license of operators try to cheat Dutch bettors.
Nederland Bookmakers – Where to play online
The free and uninterrupted nature of the Netherlands' betting market is benefiting both local and foreign punters. This is due to the fact that there are no financial obligations in place, a move that has seen betting sites provide high odds and a host of bookmakers offers. Every bookie worth his pay has got some presence in the Netherlands with Dutch players finding joy in betting. As it stands now, plenty of bets are placed on Bwin Nederlands, a body that's expected to continue its domination of the local market based on the impending legislation changes. Others include Intertops, Karamba, and LVBet.
Βet365 Nederlands and other bookies that closed business in the Netherlands
Reputable bookies such as Βet365 Netherlands had to close business from Holland immediately government restrictions came into force. For quite a long time, it domain Bet365.nl has been non-operative, an aspect that disappointed a majority of English Premier League fans where bookies had fully concentrated on. Other reputable names that closed for business and wait for applications to be made official included Betfair, 1xBet, and Unibet.
Sports betting across the Netherlands
Football is significantly huge in the Netherlands and comes in as the first choice of punters across many voetbal gokken sites. Soccer giants such Eredivisie clubs Ajax and PSV are commonly the frontrunners in huge sporting events such as the UEFA Champions League, a reason as to why local players prefer them. Bwin Nederlands is known for their attractive odds and a variety of markets on foreign leagues such as Serie A and EPL.
Another popular sport in the Netherlands is Field Hockey, with the country's national team having shown greater potential a few years back and winning 17 Olympic medals. Volleyball is another popular sport among bettors with cycling lovers also placing their bets on popular sporting events such as UCI World Track Cycling Championship where more than 40 gold medals have been won. Lately, too, sports such as kickboxing seems to be attracting a wide pool of Dutch bettors.
How to fund your account
As stated much earlier, there were efforts by the government to block online transactions by bookmakers. This move was also widely ignored by payment service providers and plenty of Dutch banks. Every known mode of acceptable payment method can be used including e-wallets, vouchers, bank cards, and iDEAL.
Expected future trends of online gambling in Holland
The gears are about to shift across the Netherlands and if everything goes well, local bettors will highly benefit from the expected licensing system. Even though there are some fears and rumors that taxing operators will compel them to offer lowered betting odds, we highly doubt that 29% on GGR will make investing in the Dutch market commercially unviable. Also, let's not forget that the current existing structure doesn't protect players who may fall victim to illegal or unlicensed betting sites. There is a lot yet to be witnessed chief among them being the number of bookmakers that will go ahead and apply for new licences to operate.
Frequently asked questions
Are Dutch bettors allowed to wager at Unibet?

For some time now, Unibet's Nederlandse has been down. But we highly anticipate that once the impending new bill gets implemented and the subsequent license process commences, they will immediately enter the market. But again, we are waiting to see whether it will enter the market as a bookmaker or a betting exchange.

When is the expected date of Betfair Nederland to be in operation again?

Betfair closed business across this region with the hope of returning once the licencing process begins. But we anticipate that by early 2020, they will also begin to allow Dutch players immediately after the market begins to be regulated. But again, we don't know whether they will enter the market as a betting exchange or sportsbook.

Is Pinnacle available to Netherlands bettors

While such can be used to top-up funds on several e-wallet and other banking options, it doesn't offer any alternatives when used in connection with a Paysafecard.

When is the expected date of 1xbet Nederland entering the Dutch market once more?

Without a doubt, 1xBet offers unparalleled market varieties. This is the reason as to why a majority of Dutch bettors got frustrated the moment 1xBet closed its business following a 400,000 fine by the NGA. But there's no need for panic as word on the street has it that once the Netherlands gaming environment is regulated, 1xBet will be back.