Overview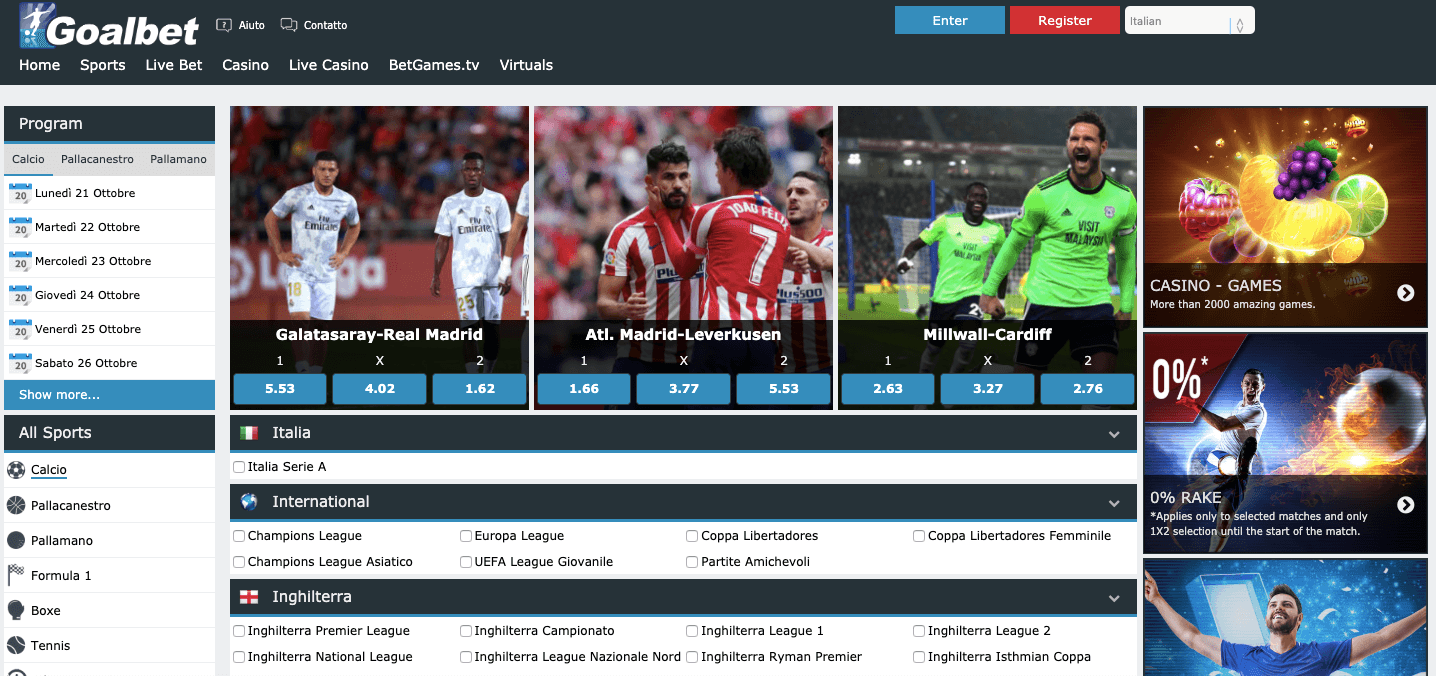 Goalbet was established way back in 2009 and as of today, this online gaming site has transformed to become one of the most trusted and reputable Eastern European bookies. Goalbet initially launched their operations in Austria but now have offices in Bulgaria as well as Greece. Though the firm is licensed in Curacao, Estonia, and Austria, it's also popular in other countries such as Greece, Portugal, and plenty of countries in Central Europe.
Goalbet is an online gambling bookmaker that consists of an up-to-date platform and other attractive features that every bettor dreams of. In this sportbook review, an attempt is made to look at some of the services that are offered at Goalbet ranging from sports betting to user-friendliness of their site, to the available options of payment among others. At the end, this Goalbet overview will end with a final verdict that users need to be aware of. Keep reading for more information about Goalbet.
Quality of the platform and website usability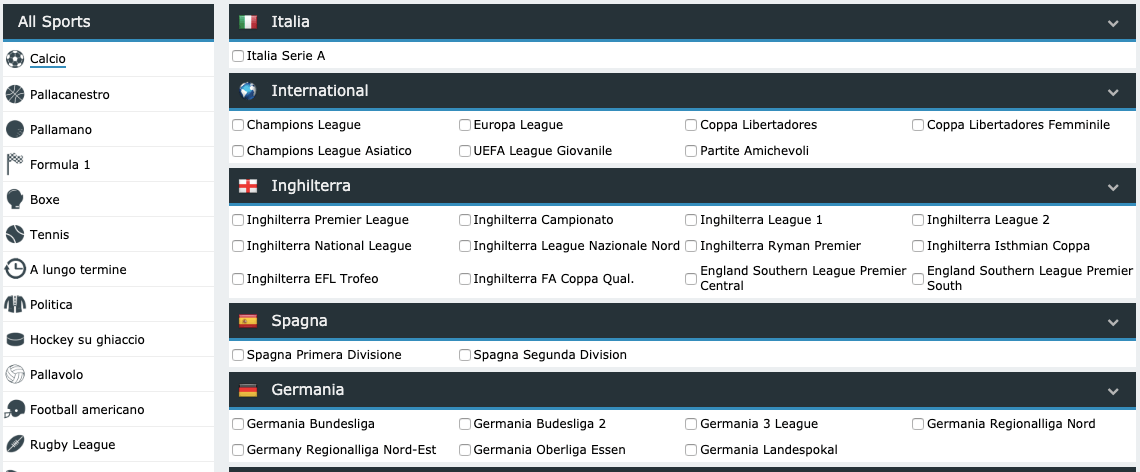 To be the best online gambling site website usability matters the most. Luckily enough, Goalbet website is one of those sites that are very easy to use with a landing page that features a quality graphics that indicate the number of sports that are available on the site. Additionally, the top of the page has got a sliding banner that gives information about services, concessions, and offers.
The moment bettors/players click on the 'sports' link bar, they are immediately directed through to Goalbet website, which is designed neatly. A simple, yellow, black, and white theme is included, with the layout properly utilized. On the left hand side of Goalbet's page is a list of all the available sporting events, while the middle has got links of upcoming sports/events.
The site's layout is impressive and not only favors football, but also has room for other sports events such as moto racing, rugby, baseball, volleyball, and basketball. In short, in terms of user-friendliness, Goalbet website deserves some credit.
Games available and betting options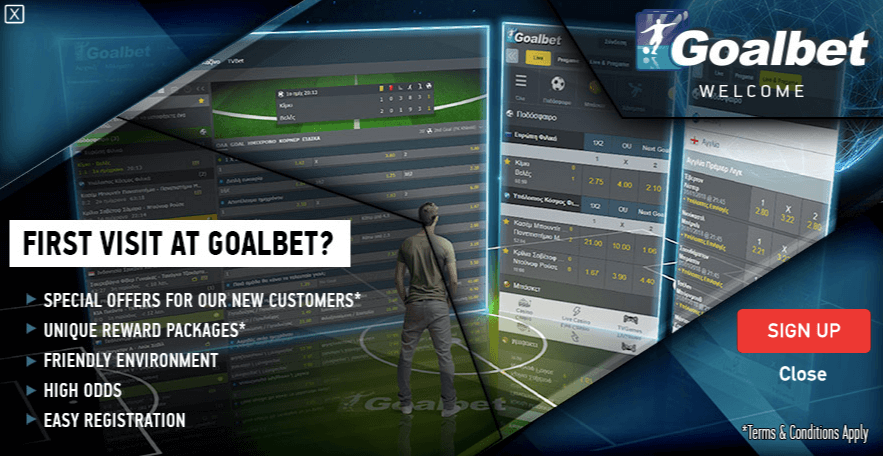 There are more than 16 different types of sports that are listed on Goalbet website with such sports being listed based on popularity. Football, handball, and basketball are the top three events listed here with American football beginning to get an increased coverage to become a popular betting sport for a majority of bettors with an account here.
Football remains to be popular sport, and Goalbet has got room for football betting covering 24 countries from Vietnam to Iceland, from Israel to Saudi Arabia. Offering for English football remains excellent though. However, handball and basketball coverage is also impressive with events from countries such as Portugal, Russia, and Poland all being put on schedule.
Goalbet has got an extensive number of additional for all the matches that are on display. For instance, there are the normal total goals, first team to score, over/under, booking, and team to score next goal. Asian handicap bets are also available and so are double chance bets, and much more.
Bonuses

Among plenty of options that several sportsbooks resort to, the provision of bonuses and promotions is one of them. In order to attract new customers, retain existing ones, and encourage dormant customers to come back and continue placing their bets, Goalbet offers its customers several bonuses and promotions.
Currently, there's an initial Goalbet welcome bonus for newcomers. There's also a 100% deposit match-up bonus that is awarded to every bettor who opens an account with Goalbet and has never had an account here before. Other bonus options available here include Cash outs. Also, VIP and loyalty bonuses are available for customers who stick with Goalbet for long.
Mobile gaming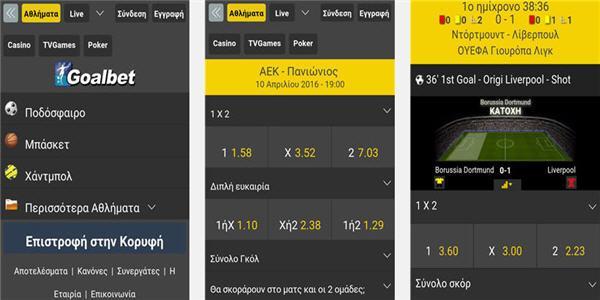 Globally, mobile gaming is on the rise in many countries across the globe. Unlike before where bettors would wager by accessing brick-and-mortar shops, such is not the case today as such numbers seem to have decreased immensely. With the latest technology in place in addition to an increased number of tablet and smartphone owners, its undeniable fact that mobile gaming is on the rise.
The betting craze has taken the world by storm and a lot of betting enthusiasts are fond of placing their bets using smartphones and tablets. With this, plenty of online Sportsbook gambling sites now have mobile apps that give their clients a chance to place their bets from the comfort of their homes or offices.
However, despite of this, there seems to be no mobile version app of Goalbet that is ready for download in Apple and Google Play Store. While there are efforts to have one in place soon, players betting via at the moment can only play from their mobile by visiting Goalbet mobile responsive page.
Payment Options
Another excellent feature associated with Goalbet is its payment options. Goalbet supports a wide array of payment methods that bettors/players can utilize. Some of the available options that Goalbet customers can use include
iDeal
Paysafecard
Moneysafe
Skrill
Neteller
Visa,
Rapid transfer
AstroPay
Skrill
Ukash
Bank transfer
There's a lot to be aware of regarding Goalbet withdrawal and deposit methods, especially for those wishing to open their accounts here. For instance, the minimum deposit at Goalbet is €10 with the minimum withdrawal amount here being €30. Again, it is important to note that an initial withdrawal can be conducted via bank transfers.
To make any withdrawals, you need to verify your account first. By doing so, you will be able to avoid queries whenever you are withdrawing and the processing will be fast.
Customer support
Customer support initiatives present at Goalbet is solid enough and a reason as to why plenty of bettors choose to use this site. Here, there are three languages on offer in addition to a team of dedicated customer care representatives from each country tasked with handling player's complaints. Goalbet Greek operations are the largest and have a phone line that is manned 7 days a week, from 9am all the way to midnight.
Operators in the United Kingdom are available from Monday to Friday and work from 10am to 6pm. On the other hand, German speaking customer care teams can be reached on 0043 669 1729 4433, from Monday up to Friday from 7am all the way to 3pm. Operators in the United Kingdom also use the same line to handle customer complaints and compliments.
In addition to Goalbet telephone lines, its clients can also contact the company customer care representatives by using or resorting to an online contact form. Goalbet has got a working email which assists or captures conversation between two parties. There's also a Help and FAQ section where a number of situations and issues are handled.
Safety and reliability
When it comes to matters concerning the safety and reliability of Goalbet, it is evident that its bookie went an extra mile to ensure that the site is secure. Goalbet has got excellent security features with a secure connection which prevents any information loss. Player's information is secure with this site and such information can't be transferred to third parties.
At Goalbet, responsible gambling is also a part of the company policy. At Goalbet, minors or under age persons aren't allowed to have accounts or place bets. Only those players/bettors who are above 18 years can access to Goalbet website betting functions. Unlike other gambling sites where strict policies for underage bettors may be missing, such is not the case as of Goalbet.
Verdict
Overall, there's no reason as to deny this bookie some excellent rating as it has got plenty of wonderful features. Since going into full operation, Goalbet has managed to entice its clients with enticing promotional campaigns, bonuses, and huge odds just to mention but a few. Goalbet customer service is excellent and there is a plethora of fast and secure ways that customers can use to fund their accounts. While Goalbet should improve their menu by adding a few more sports such as horse racing and American football, overall, the company's operations are professional and highly reputable, and stand remain highly recommendable. Professional and novice players/bettors alike should find this site fun and exciting.

FAQ
Does Goalbet support live betting?

Yes. Goalbet has a live betting feature where players can place bets on live matches and events.

Is there a welcome bonus at Goalbet?

Yes. New players qualify for 100% matched first deposit welcome bonus once they open a Goalbet account.

Is there a mobile app for Goalbet?

No. Goalbet does not have a mobile app. However, you can use the mobile site to access the Goalbet platform.

What is the minimum amount I can deposit or withdraw at Goalbet?

The minimum amount you can deposit in your Goalbet account is 10 EUR while the minimum you can withdraw is 30 EUR.