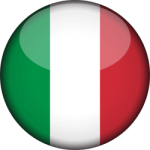 Betting sites in Italy
Population: 60,590,000
Active players: 15,000,000
Currency: Euro
Gambling products under regulation: Casino games, horse racing, fixed odds sports wagering, betting exchanges, poker, lottery, bingo
Operator types: Online and land-based. Unlicensed are blacklisted and ISP barred
Active licenses and costs: As of today 120 licenses have been issued. The fees are €350,000, and 22% on GGR for sports betting and €200,000 and 20% on CGR for online casinos
Designated authority: AgenziadelleDogane e deiMonopoli (ADM)
Status: Gambling is fully regulated and operates under a licensing system
Not only is Italy the birthplace of the Roman Empire, Giuseppe Garibaldi, and the Rennaisance, but also home to one of the best and most organized gambling environment. Besides its rich cultural history, Italy is one of those places where almost all forms of gambling operate in a free or rather liberalized environment. It's argued that one out of four Italians gamble on a weekly basis regardless of their gender, age or economic background with lotteries and betting perceived as a hobby. Bel Paese comes in as an apt example of how betting on sports is to be regulated with the country's ADM firmly grasping the local market by shielding Italian gamblers while fairly dealing with operators in Italy.
Are you aware that?
Across Europe, Italians have got the highest per capita betting spending
Approximately 1 out of 4 Italians place their bets either online or offline weekly
Even though betting on unlicensed sites is illegal, there has been no legal action that has ever been taken on players
You aren't compelled to pay taxes on your winnings
Best .com betting sites (Miglior siti scommesse)
Sports Betting Environment
Operators/providers
On a closer look, the Italian betting scene somewhat resembles the licensing system currently in operation within Denmark and the United Kingdom. This is due to the availability of an open licensing Authority known as Agenzia delle Dogane e dei Monopoli, a huge number of license holders, and recent a recent populist clamor that arose due to alleged problems in gambling. On grounds of regulation, online providers are required to pay a lone fee of €350,000 along with 22% from their gross gaming earning to get a valid nine-year license and also operate under a .it domain. One of the most demanding requirements is that an operator has to have some physical presence either within the European Union or any other member state of the European Economic Area. Without such obtaining a license is hard. As it now stands, Snai, Bet365, and Planetwin365 dominate the Italian market though Lottomatica, Eurobet, and Betaland are fast gaining ground.
Players
When it comes to freedom of choice, Italian bettors are among the lucky ones as there are plenty of betting sites in place coupled with no tax on winnings. Betting appears to an everyday activity for the country's local operators such as Snai, Sisal, Lottomatica and foreign-based platforms such as Betrebels, 10Bet, and 1xbet Italia. Even though the current rules and regulations state that betting on non-aams bookmakers is illegal and can amount to heavy fines, there have been no cases of arrests or prosecution since 2006 when the first gambling law was drafted.
The state of competition among operators
Competition is fierce between foreign, local, and unlicensed operators who are trying their best to control a large share of the Italian betting market. This move has compelled some operators to apply aggressive marketing campaigns such as offering huge odds, plenty of bonuses, securing soccer club sponsorships and some prime time on significant Serie A games TV streams. In 2017, Serie A – 1xbet sponsorship deal was perceived as a serious action from the government following its move to regulate gambling when it became evident that 1xbet had not obtained an operating license from AAMS. These made the Italian government to step in and assert that gambling advertisements will be illegal come January 1st, 2019.
This move is expected to cost close to €120 million in terms of club sponsorships across the country. Still, a second round of tough rules was declared against unlicensed betting sites, with the ADM attempting to limit their Italian presence.
Despite what appears to be tough rules on non-AAMS bookmakers, still, there are plenty of bookmakers that are trustworthy and reliable. ADM asserts that some of them aren't registered within EU and therefore not permissible to hold an Italian license. This implies that non AAMS bookmakers such as Betrally Italia, Betrebels, Campeonbet and 1xbet can be fully trusted.
Payment options
Italian bettors are among the luckiest ones as they are free to choose any payment option they find convenient to make a deposit on a foreign and online licensed sportsbook. PostePay remains to be a common method of deposit alongside Neteller, Skrill, and bank transfers. Plenty of bookies in Italy will encourage you to make your deposits through desktops and mobile but there are some restrictions on other payment options such as MyBank whose verification is a bit strict. On grounds of cryptocurrencies, plenty of bookies in Italy don't offer this option based on its strikingly low demand from bettors. If you intend to keep your financial matters private by using Bitcoin or any other forms of digital currency, you are better off trying foreign operators that accept them.
Comments from Bookspy
I somehow harbor hazy feelings regarding how Italy regulates its online gambling. While the liberal approach on the country's licensees and low tax rates seem to be favoring players, on the other hand though, the recent populist clamor to crack down on the country's betting sites are bound to harm operators and consumers alike. If indeed the ADM has the interest of bettors at heart, then they have to try their best and ensure that the existing license holders make an improvement on their products and protect underage persons as opposed to defaming non-European bookmakers. According to me, a majority of punters will slowly but surely resort to non-AAMS for two reasons:
Your financial transactions remain private. Even though it may sound odd, bettors from other nations will have their financial transactions declared to the MEF (Ministero dell'Economia e delle Finanze) by minor and major banks as they are compelled to share such details.
Non-government interference on players' bank balance. There have been plenty of cases where MEF has confiscated player winnings from certain bank accounts as a debt settling move in a unilateral agreement. In other words, the government is compelling players to resort to licensed bookies and do away with non-AAMS sites.
Top Betting Sites in Italy
Frequently asked questions
What is the legality of sports betting in Italy?

Online sports betting is legal in Italy with the local market having been regulated since 2006. Currently, there are 120 bookmakers that are licensed by the AAMS along with plenty of other foreign-owned betting sites that are yet to obtain an operating license.

Can I easily get access to foreign bookies?

Yes, you can. Accessing and subsequently signing up on foreign-owned non-AAMS bookies is almost the same as signing up on a registered betting site based in Italy. There's only a slight drawback regarding this one with some websites known to have been barred by some internet provider based on directives of the ADM, and as such, some of your options could be limited.

What is the best pick between PlanetWin365 and 1xbet?

While all bookies have their advantages and disadvantages, there are some issues that separate efficient bookies from mediocre ones. Even though PlanetWin365 remains to be a respected operator consisting of a huge player base across Italy, on grounds of promotions, markets, and fast options of payment, 1xbet beat PlanetWin365 by far. Again, PlanetWin365 has got a 10% average overround on pre-match soccer games than can jump up to 12% during live bets. On the other hand, 1xbet boasts of a steady 2% on prematch but doesn't go beyond 4% during in play. When it comes to market varieties; the scale tips towards 1xbet due to their 130+ markets that cover a majority of top leagues in comparison to the 110+ offered by PlanetWin365. Lastly, it's right to say that PlanetWin365 offer player's irresistible sign-up bonus that reaches 100% and up to €100. However, 1xbet has got a lucrative 100% first-time deposit bonus up to €130 that's awarded by entering the promo code ITA100.

Should I be a member of 18Bet Italia?

To be honest, 18bet is one of the best foreign-owned bookmakers in Italy based on their high odds on Serie A games and an array of betting options. While they currently lack an operating license from ADM, they are very safe when it comes to betting as they are active in many countries having been in operation for years. If you join 18Bet today and enter a special promo code WB100, rest assured to claim a 100% up to €100 bonus.

Which domain should choose Bet365 .it and .com?

There are slight differences between the two. What separates them is that the former (.it) domain has got a specific bookie that has got an AAML license and can provide products to players since they are legal. The later domain undertakes its operations on an international level and accepts players from different countries.

Which bookmakers offer attractive welcome bonuses (benvenuto bonus bookmaker scommesse)?

Close to all bookies offer sign-up bonuses, especially to new customers, similar to those found in plenty of other countries globally. However, finding the best out of them all entirely depends on you. It's advisable to find a list of all the bookmaker bonuses that are currently in place.

Is there a rundown of excellent new bookmakers (nuovi bookmakers)?

Some of the newest sportsbooks to penetrate the global betting market include Roy Richie, Betzest, and LVBET. At your earliest discretion feel free to visit our full list of new bookmakers for a more detailed look.