Bonkersbet Sports Review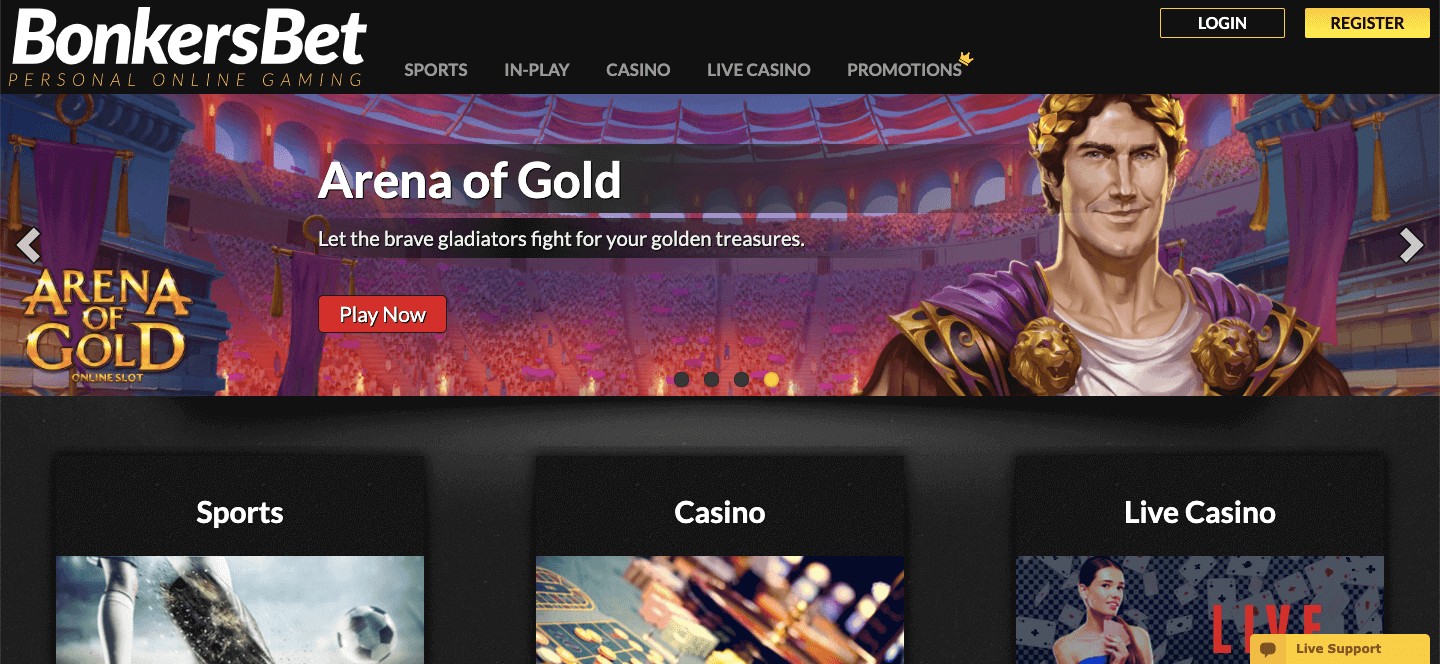 Bonkersbet sports is a gambling site that offers punters an outstanding experience. Get into the action in the many sports on offer while taking advantage of the bonuses on offer. Here is our Bonkersbet sports review.
Overview
Bonkersbet is a sportsbook that prides itself on the superior services it offers in the betting industry. As a newly established site, it has managed to give older bookies a run for their money with its wide range of markets as well as very competitive odds.
It was established in 2018 and operates under an eGaming license no. 8048/JAZ from the government of Curacao. The bookie is owned by Velorun Corporation N.V and has its business roots in Germany. However, the bookmaker draws punters from all over the globe.
Being a new sportsbook, Bonkersbet has ensured that your first impression of their site is memorable. With a dark background combined with grey, the page is well designed. For features that are demand attention, they use a bright yellow.
The site is not just attractive to the eye, but it is also functional. Its most robust feature is the extensive sports and betting markets that it offers its customers. Apart from games, gamers can also bet on political events, TV series and even the landing on Mars! Soccer is a popular sport the world over and Bonkersbet sports has not been left out of the action.
There are over 300 markets on their site. These include all the major leagues in the world as well as many localized matches and leagues. You can place bets on aspects of a game. These include bonus the cards handed out, the number of corners taken, free kicks as well as numerous other combos. Other sports such as tennis, cricket, volleyball, basketball and a wide range of competitive sports is also on offer. Bonkersbet has a welcoming bonus for a new member and a super smooth registration process. Furthermore, a client who faces any problem on the platform can get in touch with customer care.
This is through live chat oremail where you can expect a speedy response. Payments on Bonkersbet bonus are also a straight forward affair. You can opt for Bank Cards, eWallets, or Bank transfers to transact on the sportsbook. The signing up process in Bonkersbet sports review is not complicated. Simply click on the link at the top right-hand side of the screen and follow the prompts.
Quality of the Platform and Website Usability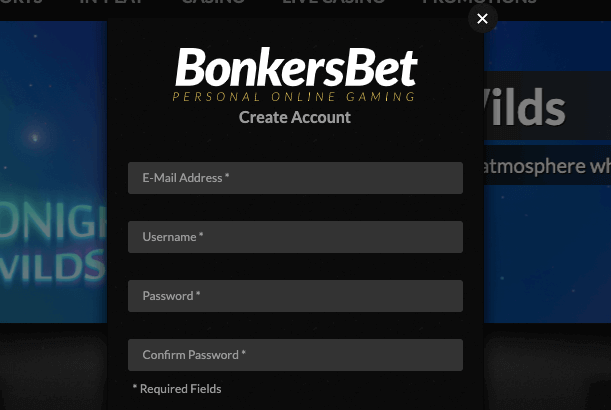 The Bonkersbet bonus platform is attractively packaged and designed. Its use of a black background contrasts sharply with the "action" buttons that are a canary yellow. Promotional material on the Bonkersbet bonus Homepage is on brightly colored scrollable banners. To enhance customer ease in the use of the platform, Bonkersbet bonus offers its services in four languages. These are English, German, Belgium and French.
To find the sport that you would like to place your bet on you navigate to the Sports bar in the Homepage. From there, you can click on the search facility and enter the keyword of the event or market you wish to place bets on. The major events of the day are listed on the page and are generally football matches on the champions league or other popular European league.
Games Available and Betting Options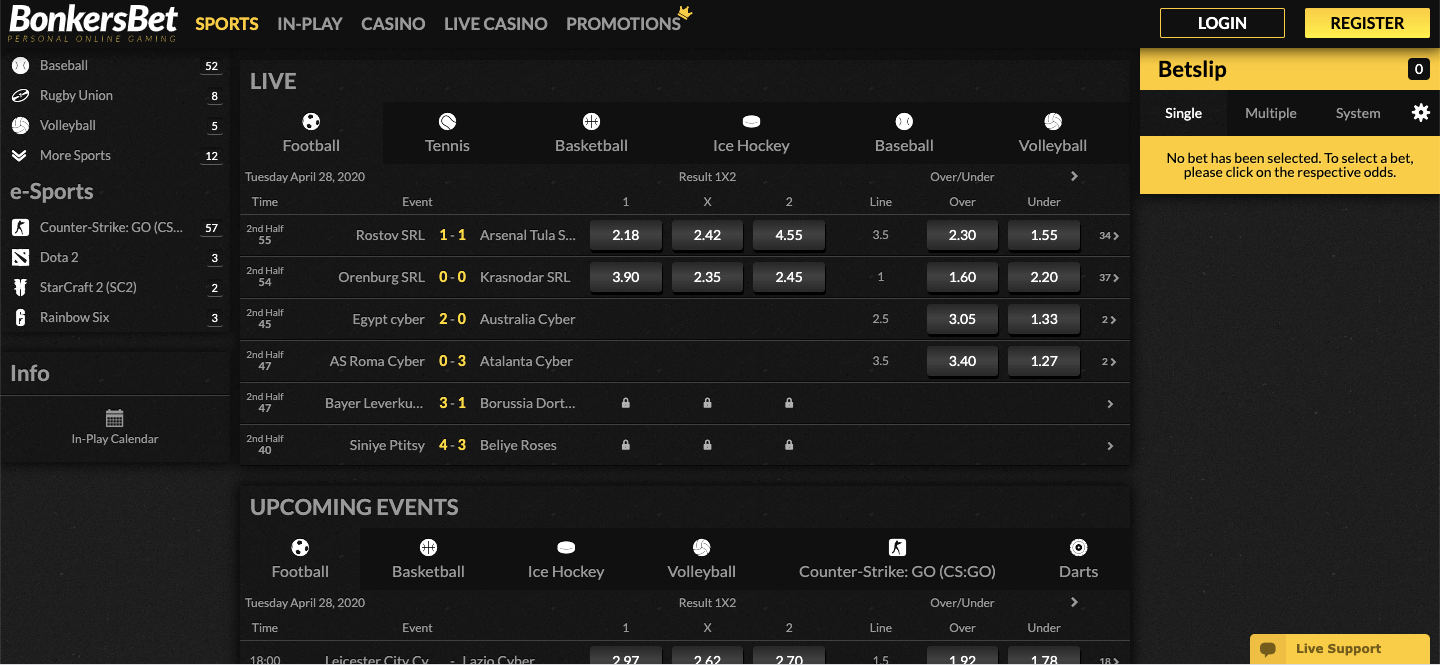 There are over 30 games to choose from on Bonkersbet. These range from popular sports such as soccer, basketball and tennis to the more obscure sports and local leagues. Once you click on Sports and land on the available markets, you will quickly realize that the games are listed in order of popularity.
Agame's popularity is gleaned from the number of bets placed in it. After the popular games, the other sports are arranged alphabetically.
Football (soccer) takes the lion's share of bet popularity. The Champions League and Premier League take the top slots. The wagers can be placed pre-match or when the match is in-play. For the Premier League, for instance, each fixture has a 3-way winner market. A link to around 100 additional markets is also provided. Heading provided for the markets are:
All
Match
Halves
Players
Handicaps
Total
Tennis and Basketball are the second and third most popular sports, and Bonkersbet also offers various handicaps with competitive odds. Other than regular sports, the gaming house also offers eSports that are popular with millennials.
Bonkersbet offers various types of odds. These are, American, Hong Kong, Indonesian, Malaysian, Decimal and Fractional punters can switch to the format they prefer. Evidently, Bonkersbet considers its clients' needs, judging by the array of choices.
The traditional pre-match wagering is not enough for a bookmaker in today's competitive market. Bonkersbet has kept abreast of the competition by providing In-play wagering. A punter keeps an eye on the progress of the play as it unfolds and places their bet on the projected outcome of the game.
With in-play betting, Bonkersbet provides a tracker that keeps updating the punter of important events in the course of play. The game is paused briefly for updates. Visuals and match statistics are also provided. Unfortunately, Bonkersbet does have a live streaming facility for its customers.
A great facility that Bonkersbet offers is the Cash Out. When a punter is following an event for which a bet was placed, he can cut his loss by backing out of the initial bet. Only a small percentage of the bet is
lost.
The cash out is taken when the event is in place and typically involves a change in the initial odds and stake.
Bonuses and Promotions

When a customer joins Bonkersbet, there is a welcoming bonus offer. This Bonkersbet sign-up bonus comes into effect immediately the initial deposit is accepted. The bonus amount is 100% of the deposit up to a maximum of €100.
Simplified it means that you double your deposit and use theincreased amount to place extra bets or higher wagers. To qualify for the bonus, you must be a new customer to get the Bonkersbet sign-up bonus. Established gamers on the platform are barred from opening new accounts to access this offer.
The bonus does not apply to Bonkersbet customers from some countries. These are France, the USA, Bulgaria and North Korea. To be eligible for the reward, a punter has to have deposited a minimum of € 10 into their account.
The sportsbook also limits the use of the bonus to 30 days after joining the platform before being eligible to withdraw your winnings. You must also wager the bonus for a minimum of 5 times. The odds on the wager should also be 2.00 or higher.
Bonkersbet also runs an affiliate program where registered users of the sportsbook can earn commissions and other goodies for introducing new clients. Regular clients who want to enter the affiliate program are encouraged to apply through an application form on the site. They then have to wait to be contacted by the programs' agents.
For regular players, there are various promotions from time to time. For example, football enthusiasts can win football accumulator bonus of up to 50%. This offer is restricted to the Champions League and several of the major domestic leagues in Europe.
Mobile Gaming
With the modern bustle of life, Bonkersbet sport has ensured that their punters are not left out of the action when they are on the go. This is possible through mobile gaming.
The sportsbook does not have a downloadable app for mobile devices. However, you can go directly to Bonkersbet sports betting homepage through your mobile device and carry out the functions that in the PC desktop. The mobile platform has high usability and like its desktop counterpart, an attractive design.
You can register, make a deposit and play on your smartphone or any other mobile device in the same way you do with your computer. Also, you are eligible for all bonuses and promotional offers like your counterpart who uses a PC. You can even contact customer care services through your mobile device.
The mobile gaming services on Bonkersbet support a majority of smartphones and tablets. Samsung, Huawei, LG, iPhone and Xperia are just some of the phones that are compatible with Bonkersbet mobile platform.
Payment Options
Bonkersbet accepts diverse financial channels to make deposits. Players can use t Bank cards, money transfers, eWallets and pre-paid safe cards. The following are the current deposit alternatives.
VISA
MasterCard
Neteller
Skrill
Paysafecard
Bank Wire Transfer
The minimum deposit amount is €10 and with no fixed maximum. It is, however, advisable to contact the bookmaker for substantial deposits. The deposit goes into your account the moment you credit it to Bonkersbet welcome bonus. Depositing money into your account is free whatever payment method you use.
When making withdrawals, the same financial instruments that are used for deposits are accepted. The minimum amount you can withdraw is €10 except for Bank transfers which have a minimum of €25. You can withdraw your cash to a maximum of € 10,000 per month.
Withdrawals are made promptly with Skrill, Neteller and Paysafe paying out within 48 hours. MasterCard and VISA take between 2-5 days to credit your winnings into your account. Bank transfers take the longest time of 2-7 working days because of their transaction verification process. There are no charges for withdrawals. Currently, Bonkersbet offer transacts its business in two currencies; the Euro and the USA dollar.
Customer Support
Customers are the backbone of any business, and at Bonkersbet, their concerns are taken seriously. There are various channels that customers can use to reach out for help. The first is through writing using the physical address of Velorum Corporation N.V. Bonkersbet also receives emails at their customer support desk. This facility is open 24/7 and responds promptly to any inquiries. The staff is professional in the way they handle customer concerns.
Live chat is the fastest method of contacting the customer care personnel. You, however, have to take note that live chat is only available from 10.00 am to 10.00 pm from Monday to Friday CET time and on Saturdays from 2.00 pm to 10.00 pm.
Their customer support uses English and German in responding to players. Maybe they could consider expanding their language options to cater to a more diverse clientele.
Safety and Reliability
Bonkersbet runs on a subsidiary license issued to Velorum Corporation by the government of Curacao. The policy of the company is founded on the principles of fairness, security and responsible gambling.
The bookie is regulated by laws and regulations that control ethical gambling. To achieve this, it is a member of several bodies and authorities that oversee good gambling ethics. Members accounts are protected by state of the art SSL encryption. This ensures that the customers' personal data is kept safe at all times. Also, details of transactions are also protected.
However, customers are also expected to play a role in protecting their accounts by using a password that should be protected from illegal use. In case a customer forgets the password, they can reset it on by contacting the bookmaker and answering a set of personal questions.
Bonkersbet has a rigorous verification process for any new registrations. The applicant has to present identification documents such as passport or government-issued identity card. Furthermore, they require evidence of your permanent residence by providing a utility bill or other official document.
Bonkersbet also conducts a (KYC) Know Your Customer audit for anti-money laundering purposes. The site does not allow customers that are under 18 years to gamble as per the law. This is also one of the reasons that your identification documents are required.
Addiction is a real problem for some gambles. Bonkersbet recognizes this problem and has put in place mechanisms to protect gamers showing signs of addiction. This includes setting limits on deposit for addicts.
Bonkersbet FAQs
Can I pay the deposit to join Bonkersbet using my PayPal account?

Unfortunately, Bonkersbet does not accept PayPal. There are other options given on the sportsbook website.

How safe is the money in my account?

Your cash is protected by encryption services provided to Bonkersbet by various companies. However, the customer is also expected to secure their password and other details from unauthorized use.

How do I get in touch with Customer Support?

Bonkersbet provides an email at the bottom of their homepage for 24/7 customer support. In addition, they offer live chat services from 8.00 am to 10.00 pm.

How much money can I withdraw from my account?

The minimum amount you can withdraw from the bookie is € 25 for bank transfers while you can withdraw €10 through all the other methods. Also, the maximum amount a player can withdraw is € 10,000.

How many sports can I bet on?

Bonkersbet provides over 40 games to choose from. These range from popular to obscure games.

How do I know that the bookmaker's odds are competitive?

The license under which the bookmaker plays its trade ensures they stick to ethical practice. In addition, fairness is one of the principles the sportsbook is founded upon. They also display the odds for players to see before they can make a wager.

For how long has Bonkersbet been operating?

The bookmaker was established in 2018, and therefore, it has been operational for more than one year.
Pros and Cons
Pros
The range of sports offered is extensive
The website is well designed and attractive
The deposit and withdrawal facilities offered are varied
Customer support is responsive
The platform has mobile gaming services
There is In-play betting
A generous bonus is offered to new players
Cons
The bookie is relatively new
Live streaming is not provided·
The languages used in customer support are limited
Verdict
To summarize this Bonkersbet sports review, this is what we have to say. Bonkersbet, despite being a new entrant in the gambling industry have all the signs of a winner. They have got it right in wooing punters by tapping on the popular sports. Offering competitive odds and a wide range of betting markets ought to work in their favor. The icing on the cake is the Bonkersbet welcome bonus to new punters.
Whether you are a new or experienced punter, you'll enjoy betting on this platform. Though there is always room for improvement, Bonkersbet sports betting has done well. Join the bookie today and take advantage of the Bonkersbet bonuses. The Bonkersbet welcome bonus will help you get started on your betting journey.