TonyBet Sportsbook Review 2023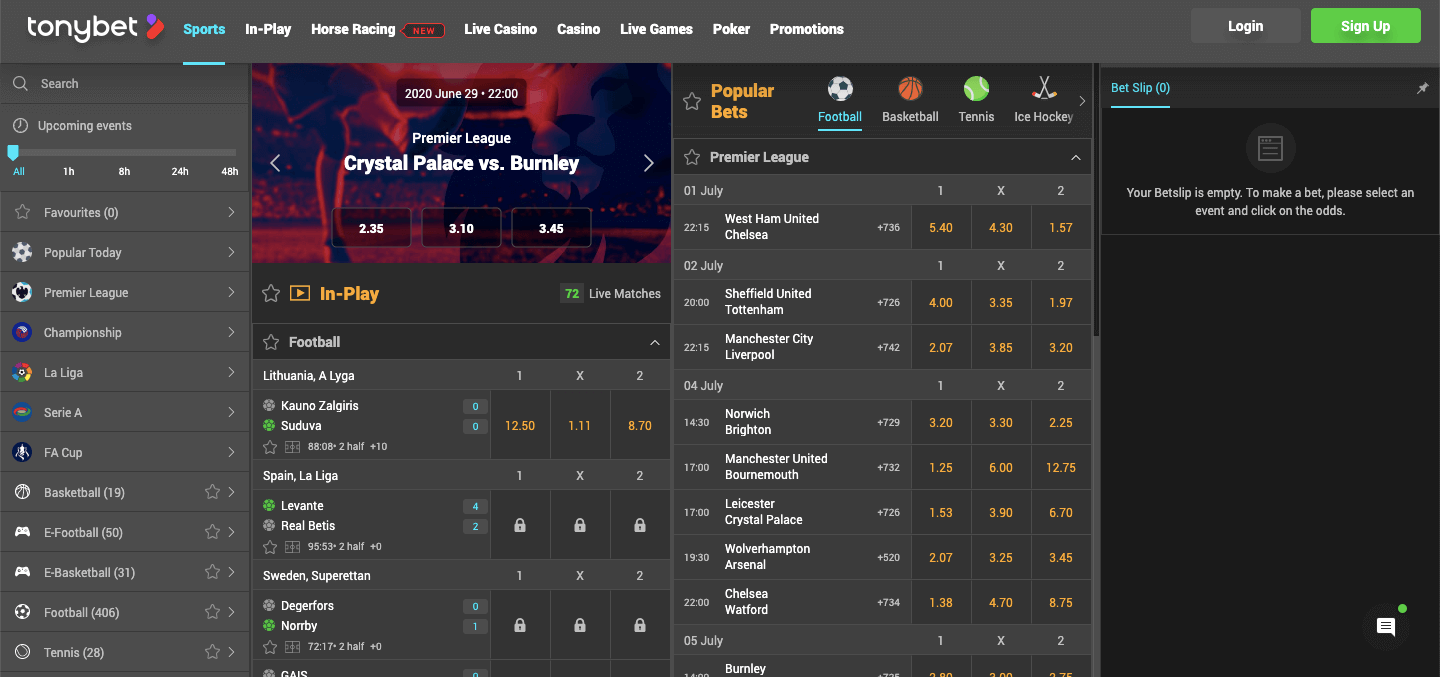 Anytime bookmarkers that have taken the world by storm are being mentioned, TonyBet qualifies to be among the number. The online and betting company was established in 2009 by the industry's renowned poker expert, business mogul, and politician- Antanas Guoga aka Tony G as an upgrade from its predecessor- OmniBet. Since then, the world of gambling has never been the same.
As a budding Sportsbook enthusiast, playing your favorite eSports isn't the only thing you can expect when you subscribe at TonyBet betting website. You probably want to enjoy other promotions that come with sporting events that are taking place including the Grand Slams, Champions League, NBA, and Dakar Rally among others. Betting in a bookmarker that is fully licensed and regulated by Estonian Gambling Authority-UK is an added advantage.
As the main sponsor of the National Lithuanian basketball in 2013, the Juta Racing Team, and Estonian sports teams, TonyBet has proven its worth as the next online betting site with a promising future. In this TonyBet sports review, you will learn more about the website's usability, the games and odds, the generous TonyBet sports bonus features, the customer support system, and secure payment methods at your disposal. It will also give you a detailed guide on how the account registration process works.
How to Register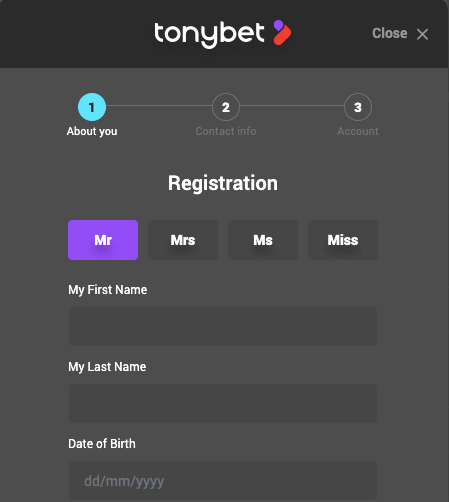 To set up your new TonyBet betting account, follow these simple steps:
Sign up by willing the player registration form using your accurate personal information to allow you to place your bets, and get the best online betting services. Provide a color picture of your ID (passport) and upload it on your account once you have logged in. Providing false information may lead to termination of your account or deny you the chance to cash your funds.
Once TonyBet approves your request, you will get an account to allow you to access any sign up bonuses that includes the 100% welcome bonus deal.
Quality of the platform and website usability
What describes a good bookmarker website? For starters, TonyBet has done a remarkable job in ensuring you get all the information you require at once. The background is grey-toned while the important features have been accentuated in orange and white. If you want to access the link to sports, in-play betting, casino and live casino features, you can go the top of the page.
In terms of usability, nothing can go wrong with TonyBet sports review bookmarker. The left-hand side of the screen gives you access to 24 different sports such as Aussie Rules and Martial Arts. Once you hit the "sports" or the "current bets available" button, the current bets available on that said sport will pop up in the middle of the screen.
Judging by the TonyBet sports review, this is an easy-to-navigate website that mimics a classic style that allows swift betting. But if you are looking for competitive gaming, you are less likely to find it at the forefront of its homepage. The only way you can access the eSports offers is by scrolling down.
Games Available and Betting Options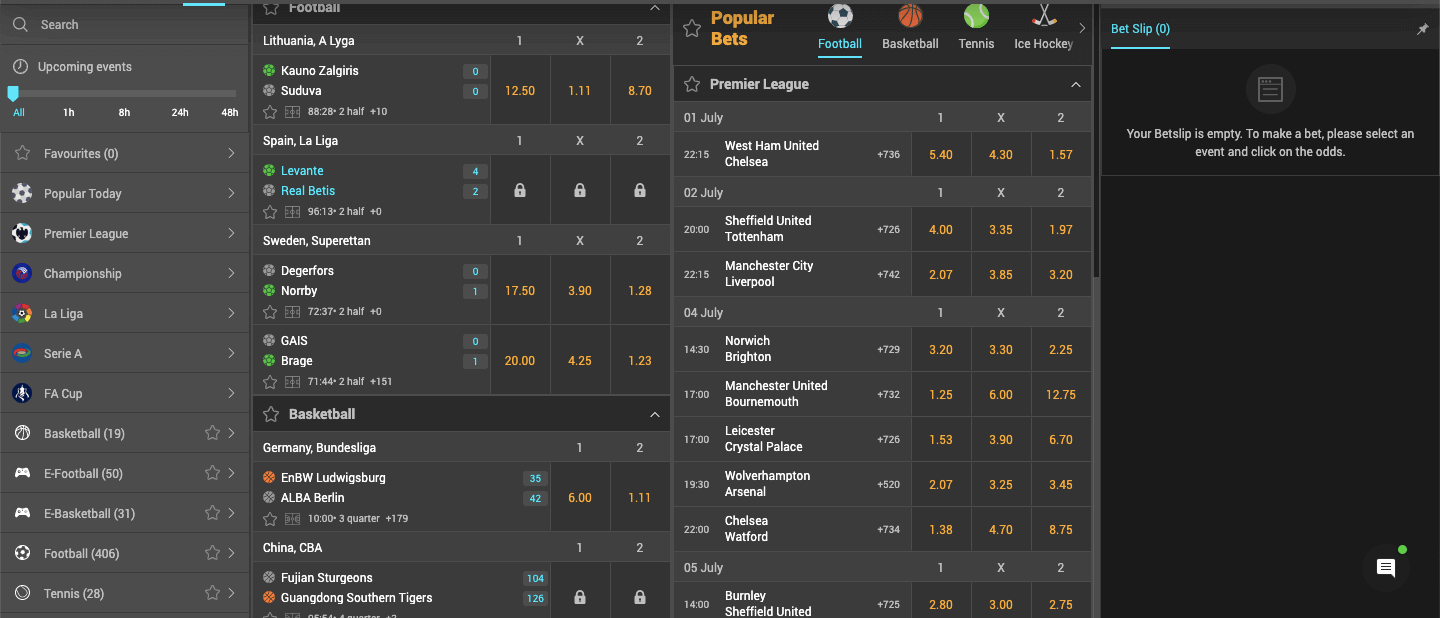 As a TonyBet's player having an access to single bets shouldn't be the only option you have. You have the opportunity to wager on:
Multiple bets/accumulators- to win, each team or player you select on you betting slip must win.
System bets- To win, the play can place many different betting combinations and expect multiple possible outcomes.
On matters related to odds, bookmarkers often exhibit similar traits. You will rarely get a bookmarker that gets their odds incredibly wrong. The truth is odds are supposed to portray the company's trustworthiness. In the case of TonyBet betting bookmarker, the odds offered are usually very fair. It is because they are regulated by the UK Gambling Commission (UKGC).
If you are football fan, TonyBet gives you the brilliant opportunity to explore the live markets from Croatia, Norway, and South Africa. This option is available via mobile and desktop versions. But you don't have to worry if you aren't into football. The bookie still offers live betting markets for tennis, basketball, eSports, and handball fanatics.
Bonuses & Bonuses

Nothing beats the power of bonuses regardless of whether you are beginner or a professional high roller. With TonyBet sports bonus, punters have the opportunity to start winning right from the start. Here are some of the generous bonuses you can expect from this bookmarker:
The Welcome Bonus
If you're joining other TonyBet punters for the first time, you will receive a warm welcome bonus which awards between 10Euros and 200Euros. You will get this one-time deal offer once you have made your first deposit and made qualifying bets. If you deposit 10Euros, you will receive another 10Euro as so on. Remember, the welcome deal comes with terms and conditions. So, it is advisable to read and understand them before signing up.
As for the TonyBet promo code and sign up bonus, all you need is to make your first deposit. The 100% matched bonus offers up to 50Euros when you deposit the same amount. You have 30 days to place your qualifying bets of risk losing it all.
The TonyBet Bonus
Once you have deposited at least 10Euros as a newbie, you will qualify for a TonyBet sports bonus. Simply go to the account settings and click on the 'LIVEBET' bonus code. As expected, you will need to wager on live bets to qualify for the bonus. Remember, the wagering requirement only lasts 30 days. If this fails to happen, your bonus will be nullified.
Mobile Gaming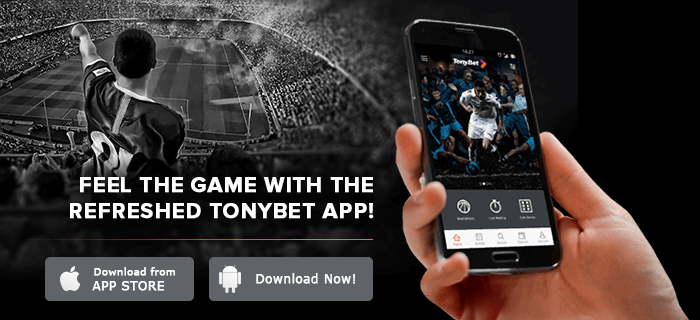 The TonyBet betting bookmarker emphasizes on the importance of enjoying your favorite sports from anywhere. Consequently, it has come up with an app that is compatible for both iPhone and Android devices. If you aren't looking to download the app, you can still use your smartphone or tablet as with many top mobile Sportsbook providers.
As for the interface, you need not worry. The site has been fully optimized to ensure it fits perfectly onto smaller screens. So whether you are using a desktop or a mobile version, the layout will have nearly all the games and markets at your disposal.
Payment Options
At TonyBet betting site, there are a great number of ways to deposit and withdraw your funds including PayPal, bank transfer, Debit Card, MasterCard, Bitcoin, Apple Pay, Neteller, PaySafeCard, Payforit, Skrill, and Visa among others. All these payments are instant apart from bank transfer which may take 3-5 working days to reflect on your betting account.
Maintaining integrity and accountability for funds deposited or withdrawn is in the top priority of TonyBet sports bonus bookies. With a closed-loop policy, you can only withdraw our funds back to the primary source. This means that you can only withdraw your funds through the same bank account for with it was funded. But if you are using two or more payment methods, your withdrawals can only be successful if the deposited amounts from each of the payment methods are used.
Currently, the bookmarker is seeking new ways to ensure better and upgraded payment methods are integrated into the system. So if you fund your account via credit card or e-wallet, you may need to wait for 1-2 working days.
Customer Support
Answering questions about the payment methods, betting options, website usability, and the types of bonuses has always been one of the primary goals of the customer support team at TonyBet. Whether you are a newbie or a veteran player, you will want to bring up queries so that you can get value for your money. Therefore, getting in touch with someone to get the answers to your questions is essential.
The TonyBet betting website has an FAQ section which is the first place you need to visit in case you run into any trouble. All the answers to the general questions you may have about your account or site have been covered. Alternatively, you can contact them via the Contact Us page at mailto:info@tonybet.com, or you can call them directly using the number displayed on the homepage.
If you want to share your opinion concerning the website's usability, join their social media platforms such as Facebook, Twitter, or Instagram. You will get a lot of information on the people to bet on.
Safety and Reliability
TonyBet is a fully licensed and regulated bookmarker thanks to the Estonian gaming authorities. This is a measure that depicts how the company settles on its disputes, bet cancellations, and refunds. Players can rest assured that they are dealing with a gaming site that respects the gambling rule of law. However, the rules and regulations maintain that gambling should not be used as a source of income.
TonyBet relies on strict methods to protect their online users from fraudulent activities or third party interferences. Once you have provided your personal details during the sign-up, you will be required to tailor a strong password. It is protected by security questions to help you recover it. Your personal information and payment information will be encrypted and stored securely using a closed-loop payment policy.
Verdict
If you are still stuck at which bookmarker to register with as an eSports punter, the TonyBet sports review will give you all the answers to your questions. As a fully licensed and regulated Sportsbook, you have the opportunity to sign up without worrying about getting compromised.
Take advantage of the welcome bonus to learn more about what the bookmarker has in store. Use any of the payment methods to secure your betting funds to set your wager.
The perks that come with reading TonyBet betting review are great. Now you can choose any of your favourite sports and cross your fingers. If you follow all the terms and conditions as per the company's policies, you will have higher chances of winning something worth the value for your money. So if you haven't signed up to play your favourite eSports with TonyBet, visit their official page today.
FAQ
Is there a sign up bonus at TonyBet?

Yes. TonyBet offers a 100% matched sign up bonus up to 50€ to its new customers once they register and fund their TonyBet account.

How long does it take to process a deposit at TonyBet?

Apart from bank transfer which takes 3 to 5 days, all other payment methods are instant and no fee is charged.

Can I wager on TonyBet using my phone?

Yes. TonyBet has a mobile app for Android and iOS devices that you can use. Alternatively, you can use the TonyBet mobile site.

Is there live betting on TonyBet?

Yes. TonyBet has an In-Play section where players can enjoy live betting.