Sportempire Sportsbook Overview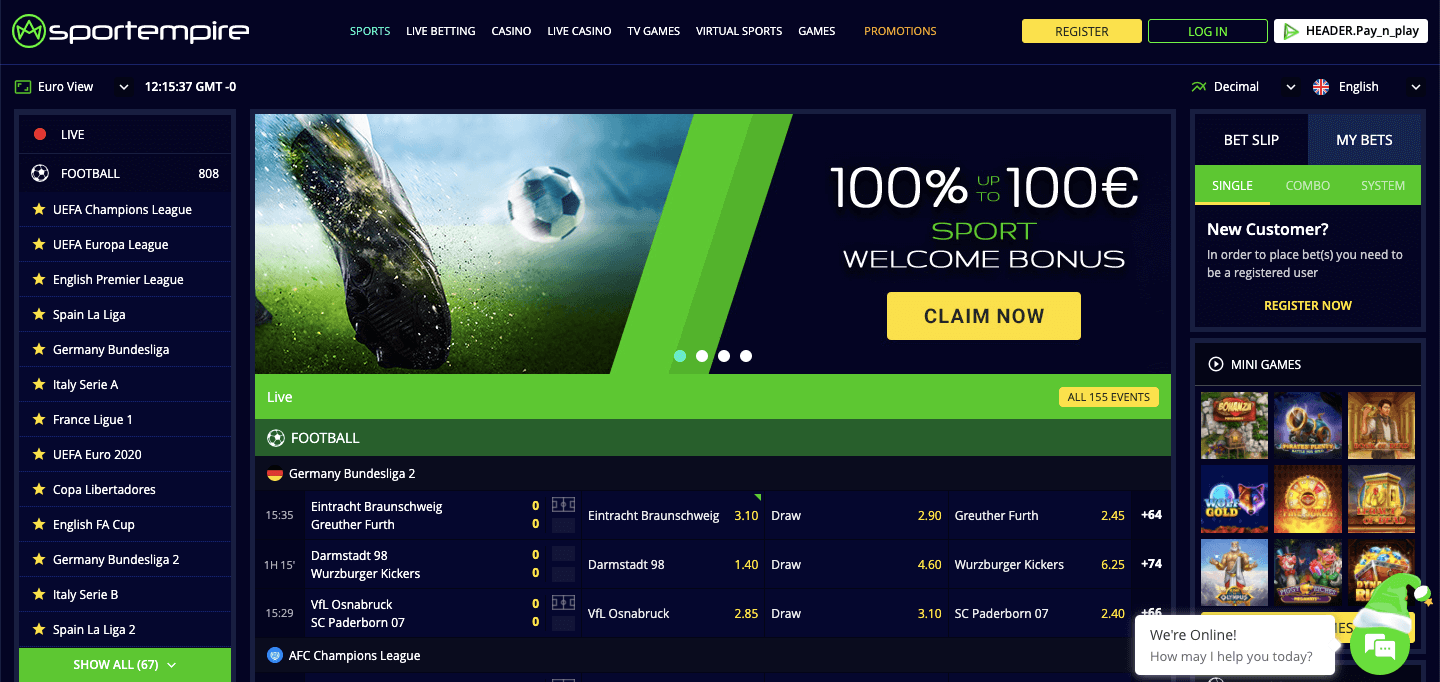 Sportempire sportsbook is one of the newest bookies in business, having opened their betting markets last year in 2019. Sportempire comes with a Maltese license with the brand's headquarters located in Israel. Shark 77 Limited owns and manages all the operations of Sportempire sportsbook.
Even though Sportempire is still new to the online sports betting industry, this bookie offers plenty of betting options, markets, and outstanding customer support. Sportempire is one of those sports betting sites where you stand to benefit from plenty of safe and convenient banking options, many betting markets, and the best customer care support.
The registration process at Sportempire is fast. In less than five minutes, you can have account running. In our Sportempire sportsbook review, we will look at everything from its customer service, the available banking options, the bonuses and promotions that you stand to get when you open an account at this sports betting site.
Are you on the market for one of the best and reliable sports betting sites around? If so, look no further than Sportempire. Here, you stand to enjoy some of the best odds, plenty of banking options and several betting options.
Pros and Cons
Pros:
Cash out
More than 25 deposit methods
Multiview
More than 70,000 pre-match events per month
A wide array of outrights
Cons:
A lack of live streaming
No quick bet
Quality of the platform and website usability
Sportempire understands the importance of user experience; from the homepage view, it's clear that the website is very easy to navigate. At Sportempire, it very easy to find any sporting event that you are looking for.
Sportempire has a neat, tidy, and clean interface that's extremely user-friendly. The moment you get to access their website or the mobile app, then you'll be able to navigate between different sporting events available here with a lot of ease.
In short, Sportempire's website is one of the easiest to use and navigate, regardless of the browser that you choose to use. There are pointers on every headings and subheadings. Every heading has a drop down pointer that lists down all the contents.
The loading speeds of websites matter a lot. Website speed is very much important. If you happen to run a slow website, then chances are that very few people will visit your site. The ideal thing about Sportempire's website is that it loads very fast. The moment you log in and click on a page, you won't have to wait for long for pages to load.
Games available and betting options

Sportempire offers its customers betting on several sporting events. Some of the major sporting events that players can wager here include:
Rugby
Soccer
Tennis
Baseball

Volleyball

Cricket
Basketball
Ice hockey
Athletics
American Football
Pool
When it comes to odds, Sportempire offers some of the best odds around. In fact, Sportempire offers some of the best odds that rival some of the most established names in the industry. At Sportempire, rest assured of some of the best odds, meaning that you stand a chance of increasing your bankroll when you sign up and bet with Sportempire.
Sportempire offers its customers plenty of betting options to choose from depending on the type of sport that they choose. Are you a soccer fan? Do you like betting on football? If so, then you can find plenty of betting options on soccer such as over/under, even/odd goal, first team to score, total goals, match winner, and draw, to mention but a few.
Cash out is one of the most important things when selecting an online sports betting site of your choice. With cash out, you stand a chance of taking your profits early, especially if your bet is coming in. better yet, you can get some of your stake back if your bet goes against you.
Bonuses & promotions

Bonuses and promotions are important, especially for online sports betting firms. Bettors always prefer to wager at online sports betting firms that offer them regular bonuses and promotions. Without bonuses and promotions, bettors will likely head to other betting sites that offer them mouth-watering bonuses and promotions.
Sportempire offers its customers a special welcome bonus the moment they get to sign up or open their account here. Upon signing up at Sportempire, bettors can claim a 100% bonus up to $100 the moment they make their first deposit. Of importance to note is that the minimum deposit amount required at Sportempire is $10.
Sportempire relies on the Welcome Bonus the most. The welcome bonus is Sportempire's long-term promotional offer that this sportsbook relies on to attract potential customers. Apart from the Welcome Bonus that Sportempire relies the most, if you happen to be a loyal player here, rest assured of some rewards.
The longer you happen to play with Sportempire, the more you stand to get some rewards. If you play long with Sportempire and stake more, then you increase your chances of reaching the VIP status. With a VIP status, rest assured of even better promotions and offers. Sportempire rewards loyalty, meaning that the longer you continue staying with them, the more likely you are going to work your way up the VIP status.
Mobile gaming
Now more than ever, mobile gaming appears to be on the rise. Unlike several decades back where bettors had to spend several hours behind their desktops or PCs to bet, such isn't the case as of today.
Now, bettors on the move can wager on their favorite teams or players, thanks to mobile gaming. Many online bookies have native apps that their customers can download and use it to wager on their favorite teams. Those that lack such apps ensure that they put forward a decent mobile site for players on the move to access.
By the time of writing this review, we established that Sportempire doesn't have a native app that its customers can use to bet. However, its mobile site is excellent. From the homepage, it's clear that Sportempire is a site with a focus on sports betting.
Even though you can find other categories, sports appear to take center stage. It is very easy to manage and access your account by using a drop down menu, and it's in this location where you can deposit, withdraw, and go on to update your preferences.
All high quality sports betting operations do understand the importance of ensuring that their customers can easily bet while on the move. Sportempire fully understands the importance of ensuring that its customers are able to wager easily while on the move.
Therefore, Sportempire's has ensured that it optimizes its mobile site, making it very navigable in the mobile format. As a bettor, there's no need of downloading a separate app. All you have to do is visit Sportempire's site using your preferred browser and begin betting.
Payment Options
Sportempire supports plenty of banking options. With several different ways that you can use to fund your account, it becomes easier to choose one that you find convenient and easy for you. The traditional methods such as Mastercard and Visa are available. If you don't prefer such, you can opt for e-wallet solutions such as Skrill, Neteller, Skrill 1-Tap or ecoPayz.
Of importance to note is that you can also withdraw via the above methods, or bank transfer. Withdrawal times via the available options take 2 working days the most. You need to note that the minimum deposit amount and the maximum deposit amount stands at $10 or €10 if you are bettor from Europe.
Customer support
The ability to provide stellar customer support is something that Sportempire highly pride themselves upon as an experienced bookie. Without good customer support, you may end up losing your actual and potential customers to a bookie that values their customers. Sportempire highly values its customers. Their support department is available 24/7 to help customers with any questions or any other issues that they may have.
There are three most efficient contact options available at Sportempire. The first and the most efficient one is Live Chat. Players that use live chat at Sportempire can expect very fast responses that come in under one minute.
We tested Sportempire's live chat and found it to be very fast. When using live chat, you engage with a real person on the other end. Besides live chat, you can also reach the support department via telephone. However, we established that phone lines tend to be busy at times.
The last contact option available at Sportempire is email. You can also reach the support department here via email. Emails are ideal should you have detailed questions. However, you need to understand that the response won't be instant. However, Sportempire doesn't take more than 24 hours to respond to questions via email.
Safety and reliability
When playing or wagering at Sportempire, there's no need to worry about the safety of your personal and financial data. This bookie has in place some of the best measures aimed at ensuring that your data doesn't find its way to third parties. Therefore, when wagering at Sportempire, you can do so without any worries at all.
Sportempire encrypts all customer data (including credit card details) before sending it to the internet. This bookie uses the latest SSL technology as means of avoiding some kind of fraud activities. Furthermore, this bookie has a license and operates from the laws of the Malta Gaming Authority. It therefore means that as a bettor with an account here, you are safe.
Sportempire has a KYC (Know Your Customer) policy. When signing up to your sports betting account here, you'll be required to submit your ID, bank statement and address. Besides promoting responsible gambling, Sportempire wants to ensure that minors don't engage in gambling at the site, and that it avoids cases of money laundering.
FAQ
How long do withdrawals last in Sportempire?

In most cases, you should expect your winnings to hit your account within a period of 48 hours, regardless of the banking option that you use.

Can I close or suspend my account for a while at Sportempire?

If you feel that your gambling activities are getting out of hand, then you can close or suspend your account for a while at Sportempire. All you need to do is to contact the support department for assistance.

What are the maximum winnings and the maximum withdrawal?

It depends on your location. However, if you are a bettor residing in Europe, then the maximum winnings are €30,000 per bet. As bettor willing to withdraw your winnings, you need to understand that the maximum withdrawal is €10.000 per week.

How can I change my password at Sportempire?

You need to log in to your account and then click on your username in the top corner. Thereafter, tap on the "Change Password" icon to change your password from the old one to the one that you prefer.

How long does it take for Sportempire to settle bettors' claims?

The goal of Sportempire is to ensure the settlement of bets as fast as possible. However, you need to understand that some bets require more time before the result becomes official.

Is player verification necessary at Sportempire?

Yes. Sportempire is one of those bookies that ensures responsible gambling. You'll have to submit proof of your address, bank statement and ID at Sportempire. All this is to ensure that minors don't bet here and the avoidance of money laundering.

How can I file a complaint to Sportempire should I have one?

If you have a complaint or any other issue, you can reach the support department via email, Live Chat or through a telephone call. All these contact options are available 24/7.
Verdict
Sportempire is one of those bookies worth trying out. With plenty of events to bet on, as a bettor, you can strike it lucky the moment you choose to wager at Sportempire. Whether you are having a small bet on rugby or looking for a big win on a soccer match, Sportempire is the place to be. We are excited to watch this bookmaker as they quickly continue on their trajectory in an attempt to become one of the best online sports betting providers in the market. But so far, they are doing a great job.