Megapari Sportsbook overview
Megapari is a new addition to online sports betting landscape having started its business operations towards the end of the year 2019. If you are in the market for a bookie that offers plenty of promotions and attractive bonuses, then this sportsbook fits the bill. Megapari offers its customers the chance to place bets on a wide selection of markets, and they love in-play betting. Megapari has got highly competitive odds and an outstanding customer care department.
Equipped with a license that was issued by the government of Curacao, Megapari delivers its sports betting platform to a majority of markets around the globe, though a special focus goes to Finland, Germany, and Eastern Europe. Megapari's global approach appeals to many bettors since the website supports more than 60 languages. So, is Megapari worth a bettor's attention? This is an independent, honest, and unbiased Megapari review put together by Bettingonline24 team of experts aimed at discovering all the features offered by this sportsbook.
Quality of the platform and website usability
When it comes to online sports betting, among other things, website usability matters the most. Websites that are difficult to navigate are frustrating, an aspect that may see customers shifting from one bookmaker to the other until they find one with a website that's easy to navigate. When it comes to Megapari sports betting platform, we can say that the brains behind their website understood the importance of website usability.
Megapari's website is both simple and attractive in design, with the user interface being very easy to understand. The center page showcases the entire live events that encompass different sporting events, provided with the necessary statistics. There's also an option for a bettor to filter the competitions and remain with the ones preferred.
On the left side of the home screen, there's a full range of popular sports that players can place bets on, with football given the first priority. On the right side of the screen, there's a section that showcases Megapari's promotional offers on certain upcoming games in addition to a player's betting slip. Overall, Magapari's website is quite easy to navigate.
Games available and betting options

It goes without saying that players checking out a new online sportsbook will among other things look at the sporting events available and the betting options on offer. And in that regard, this Megapari review did establish that this sportsbook did an outstanding job in offering its clients a wide range of games to bet on, in addition to plenty of betting options.
There are close to 30 major sports betting events that customers with accounts here can wager on. Some of them include:
Football
American Football
Basketball
Hockey
Volleyball
Ice Hockey
Table Tennis
Cricket
Aussie Rule Football
Tennis
Olympic Games
Motorsports
Floorball
World Cup
Depending on the type of sporting event that you choose, Megapari offers plenty of betting options to its customers. For example, if football is your favorite sporting event, you can place a bet for Manchester United to win the English Premier League. If they emerge victorious, then your bet wins. There's also a double chance option, both of which must be successful for a player to receive a return on the stake. Other types of betting options, especially for football include betting on:
Overs/under
Total number of goals
Both teams to score
Odd /even goals
Player to be sent off
Half time result
Full time result
Player to score
Bonuses & promotions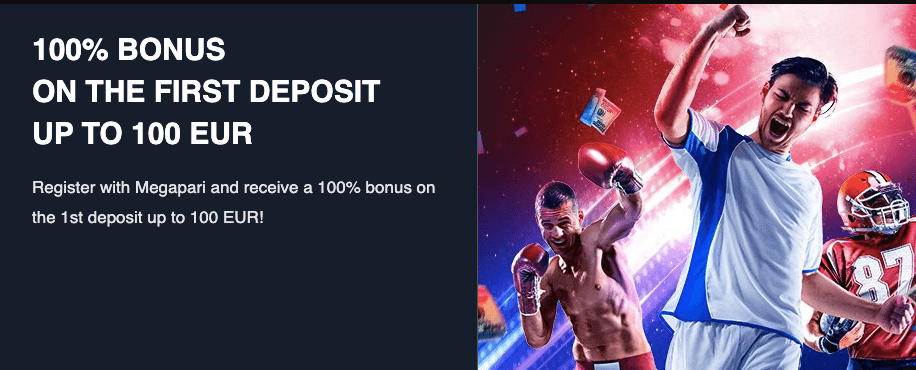 A majority of bookies offer its customers bonuses and other promotional offers to entice new players while at the same time ensuring that old or loyal bettors do not jump to other bookies who offer regular bonuses and promotional offers to their customers. In this Megapari review, we did establish that when it comes to bonuses, there are quite a number of Megapari bonus options available to players.
We can say that the brains behind Megapari betting site knew the importance of having in place a consistent welcome bonus, especially for players that are still new to sports betting. That's the reason as to why there's a strong 100% up to €100 available for new bettors to enjoy. There aren't any restrictions regarding the deposit method to use, with the bonus being offered to all those who manage to make a successful payment.
Another Megapari bonus offer that bettors stand to enjoy here is the VIP cashback bonus that's available for players in the market for additional rewards. This cashback bonus is tied directly with loyal tiers that must go through 8 levels.
Megapari bonus options do not end there. With this sportsbook, if a player is going through a bad spell, then they will be awarded some bonus. For example, if a player place 20 losing bets in a row, with stakes that range between €2 and €4.99, then they stand to receive a bonus of €100.
Mobile gaming
Technology seems to have altered every facet of life. Human beings and industries have felt the impact of technology, with the betting industry having been affected too. Unlike a few decades back where players had to spend several hours behind a computer to place bets, such is not the case as of now. With technological advancements, betting enthusiasts can now place their bets while they are on the move. In this Megapari review, we did establish that now, nearly all sportsbook have a mobile app that players can use to place bets while on the move.
When it comes at mobile betting, we discovered that Megapari sports betting platform currently lacks a mobile app that players can download to access this sportsbook's website. However, all is not lost since there's a mobile version of Megapari's website. The mobile version has got all the regular features that are found on the desktop version, meaning that players can easily make deposits and withdrawals.
For this reason, if you really have to go out, that doesn't mean that you won't be able to keep up to date with all sports news. Regardless of where you are, if you are online, then you can easily access Megapari's website with a lot of ease. Hopefully, in the near future, Megapari will have a mobile app in place that bettors can download and use it to place bets.
Payment Options
It is crucial that the moment you get to join a website of this nature, then there must be an impressive selection of payment options to use. That's definitely the case when it comes to Megapari, an online sportsbook with plenty of payment methods that customers can use.
Megapari has got everything from MasterCard and Visa to a wide selection of other payment options in the name of e-wallets. Some of the payment options here include Pay4Fun, Perfect Money, Jeton Wallet, and Skrill. Other payment methods accepted by Megapari include ecoPayz as well as Neteller. That's not all. Bank transfers and a wide range of cryptocurrencies such as Dash, Zcash, and Bitcoin are also on their list.
Megapari's site has got plenty of information regarding each and every payment method accepted, which again, is a good thing to see. The minimum deposit at Megapari is €1 and withdrawal time depends on the on the payment option that a player used to make a deposit.
Customer support
When you decide to join a betting such as Megapari, then it is important that there's some good level of customer support services offered. There's a lot going on with the site that there's bound to be a few things that you may need to be clarified. Something outstanding about Megapari is that this sportsbook comprehends the importance of customer assistance.
Based on this Megapari review, we found out that this sportsbook gives a lot of assistance to their customers. This includes a live chat facility that players can utilize to get answers to any questions or concerns that they may have. The Live Chat button can be found at the right-hand corner of the homepage.
Megapari customer care attendants are available 24/7, and in at least 30 different languages. Apart from Live Chat, customer care representatives at Megapari can also be reached via email or phone. Overall, Megapari support staff are industry-tested professionals with the ability to deal with player questions and other concerns systematically.
Safety and reliability
As you may be aware, having your details online may end up being risky. We are living in an era where hackers try everything to acquire personal information of others so that they can use it for their individual benefit. Player security is an aspect that Megapari prioritizes the most. When it comes to player safety, you can trust Megapari. In fact other Megapari sportsbook reviews seem to heap praise on what this sportsbook does to ensure player safety.
Megapari utilizes some of the latest and innovative software encryption aimed at keeping player information and any other data safe and secure. The site employs the use of SSL encryption, and with the presence of Curacao validator, it therefore means that Megapari is fully licensed and operating in strict legal fields.
The entire financial transactions carried out here are carried out through a secure connection, meaning that players have got no reason to worry regarding the safety of their funds. This sportsbook has got in place a full department made of technical security experts, whose task is to monitor nuances carefully.   
Verdict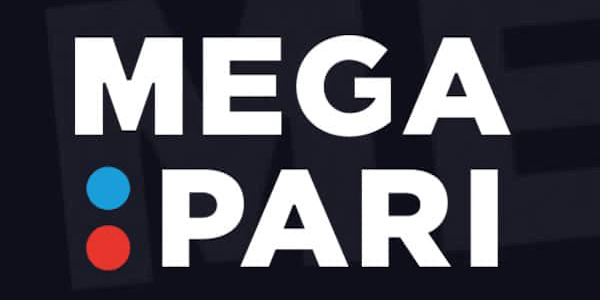 Megapari is well-designed, and one of the leading sportsbooks, looking to expand its operations to almost every country across the globe. This sportsbooks boasts of an elegantly designed website that's available in different languages. Megapari has got one of the most competitive odds, outstanding customer care representatives, and irresistible bonuses and other promotional offers. Even though
FAQ
Can a player cash out on Megapari?

Absolutely! Megapari allows players to cash out way much earlier before an even come to an end. This is a helpful measure designed to help bettors in minimizing their losses.

Is there live sports streaming at Megapari?

Yes there is. However, a player must be logged in his or her valid account so that this feature becomes active. As a bettor, you can take part on in-play events as you get to stream it live.

Who owns Megapari? And how long do withdrawals last?

Megapari is owned by the Marikit Holdings Ltd, though it's operated by Orakum N.V. At Megapari, depending on the payment method used, the timeframe of withdrawals do vary. For instance, Mastercard and VISA take between a minute to 7 days to conclude the entire process while bank transfers, eWallets, and cryptocurrencies take not less than 20 minutes.

Is Megapari legal across the globe?

Yes. Players from virtually every part of the globe can enjoy the services of Megapari except for a few who reside in USA, United Kingdom, Austria, Belgium, Bulgaria, Croatia, Cyprus, Czech Republic, China, Denmark, Finland, France, Germany, Greece, Hungary, Italy, Netherlands, Poland, Russian Federation, Romania, Slovakia, Slovenia, Spain, Sweden, Iran.

Can I withdraw winnings to my credit card?

Yes, you can do so. This sportsbook offers withdrawal services to both Mastercard and VISA payment options.

Is there a Live Chat function at Megapari? What any Megapari bonus?

Yes. Megapari has got in place a live chat function that is available 24/7. Regarding bonuses, there are several of them available for players.

What is the legally accepted age at Megapari?

You have to 18 years and above for you to be allowed to open an account and subsequently begin placing bets at Megapari. Under any no circumstances will underage players be allowed to place bets at Megapari.