EnergyBet Review 2023: Top betting site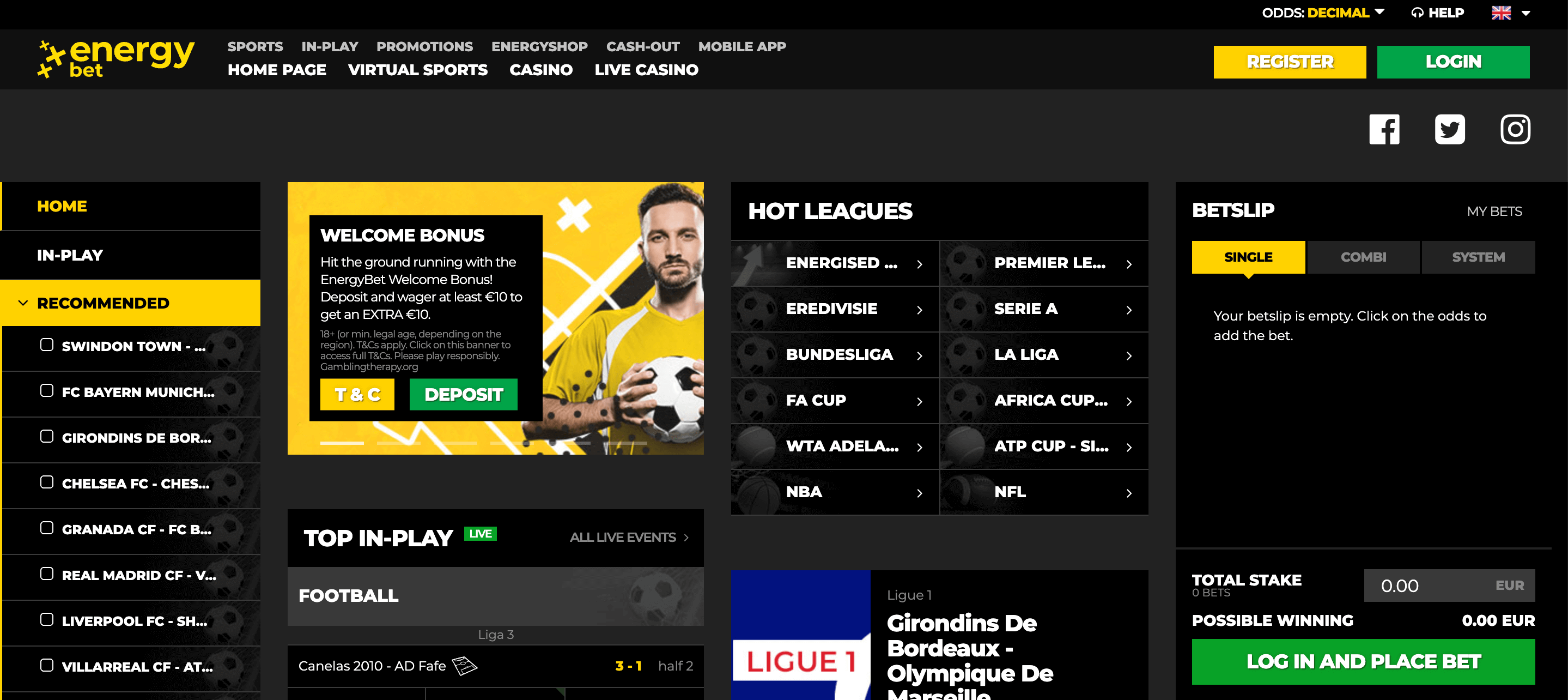 Few online gambling sites make a cut especially when there is a dominant product that customers are already accustomed to. However, a few sites defy the odds; EnergyBet sportsbook is one of them. In less than a year since its establishment, the sportsbook had bagged the industry's most coveted award — the SBC Rising Star in Sports Betting. So what's the fuss about this sportsbook, and who exactly are they?
The company behind EnergyBet is Probe Investments Limited and has a registered address at Sir William Reid Street, Gzira, Malta. It is regulated by the U.K. Gambling Commission for its U.K. operations and Malta Gaming Authority for its operations outside the U.K. You can clear your doubts on whether EnergyBet is legit/safe.
EnergyBet sportsbook is an offshoot of the already existing EnergyCasino, and it was until 2016 that it became operational. You'd be mistaken for a moment if you thought that the sportsbook came to joyride the success and support EnergyBet Casino had received. As with any business, hard work and a good strategy go a long way towards the success of a business, and with EnergyBet, it wasn't any different; it started off on the right foot.
The company mix of bonuses and promotions were and still remain attractive. Alongside high odds and a wide range of betting markets, the company quickly came to steal the show, which saw an enormous onboarding of new customers and keeps growing to date.
Fast forward to present; the sportsbook has a mobile application, reliable customer support, and attractive features such as live betting and live streaming. In this EnergyBet review, our sportsbook review experts lay bare all the facts about this bookmaker.
Pros and Cons
Pros
A vast range of betting markets
Numerous banking options
Excellent customer support
Good loyalty program, exciting bonus, and promotions.
VIP program
Cons
No live streaming
Doesn't have a racebook
Quality of the platform and website usability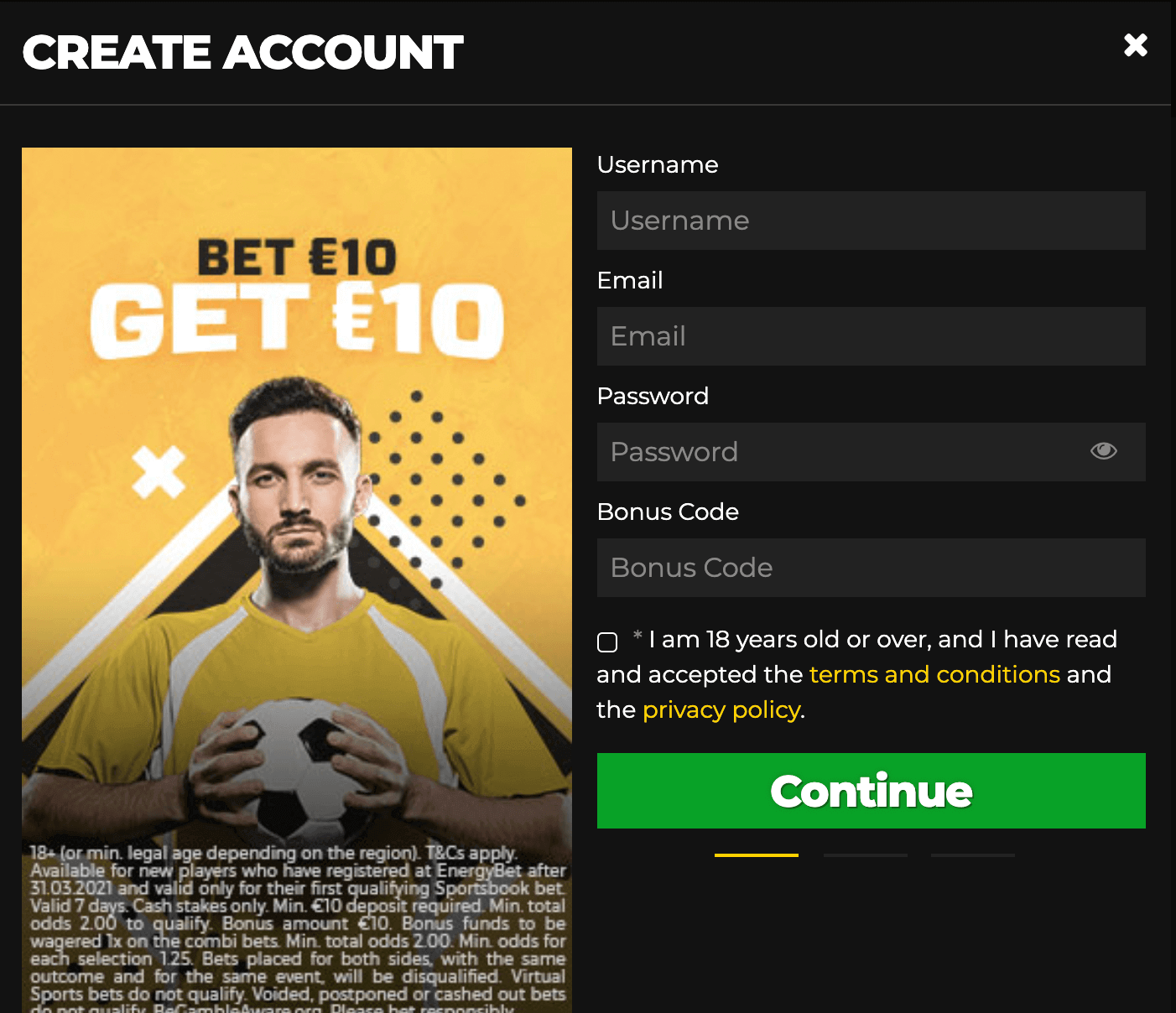 EnergyBet has embraced a dark background and white colour for text highlight. There is also a sparingly yellow colour on some sections of the website that highlight odds and tabs. On colour impression, the site has achieved above par, but still, it isn't the best colour scheme we've met online.
It goes beyond colours for a website to check all the boxes of a website with a good interface. EnergyBet has an easy to use interface with plenty of navigation tools. It has a header and footer menu with numerous menus that will take you to the various sections of the site.
Its layout is divided into three sections, the left column has the games, the middle section is the betting terminal and the right is the betslip window.
On the games panel, you will find the different betting games available in an A-Z list. On this list, you will find 'popular competition' tab which will populate popular sporting events.
The middle column shows the betting markets, but unlike other sportsbooks, the EnergyBet sportsbook is simpler to use and more organized. Four tabs highlighted as 1H, 3H, 8H, and 24H show events that are about to start in those respective times.
The right column is the betslip window and shows your selections. Depending on your bet type, it will populate in either the single, combi or system bets window. There is a tracker called 'My Bets' that you can use to keep track of your bet. What's impressive everything pertaining to betting is available on the first page.
EnergyBet provides bettors with American, Decimal, and Fractional odd formats. Better yet, the site is accessible in English, Polski, or Deutsch. However, in the course of this EnergyBet review, we found out that this bookmaker lacked a search bar and a filter tool. The two come in handy in helping bettors narrow down information.
Games available and betting options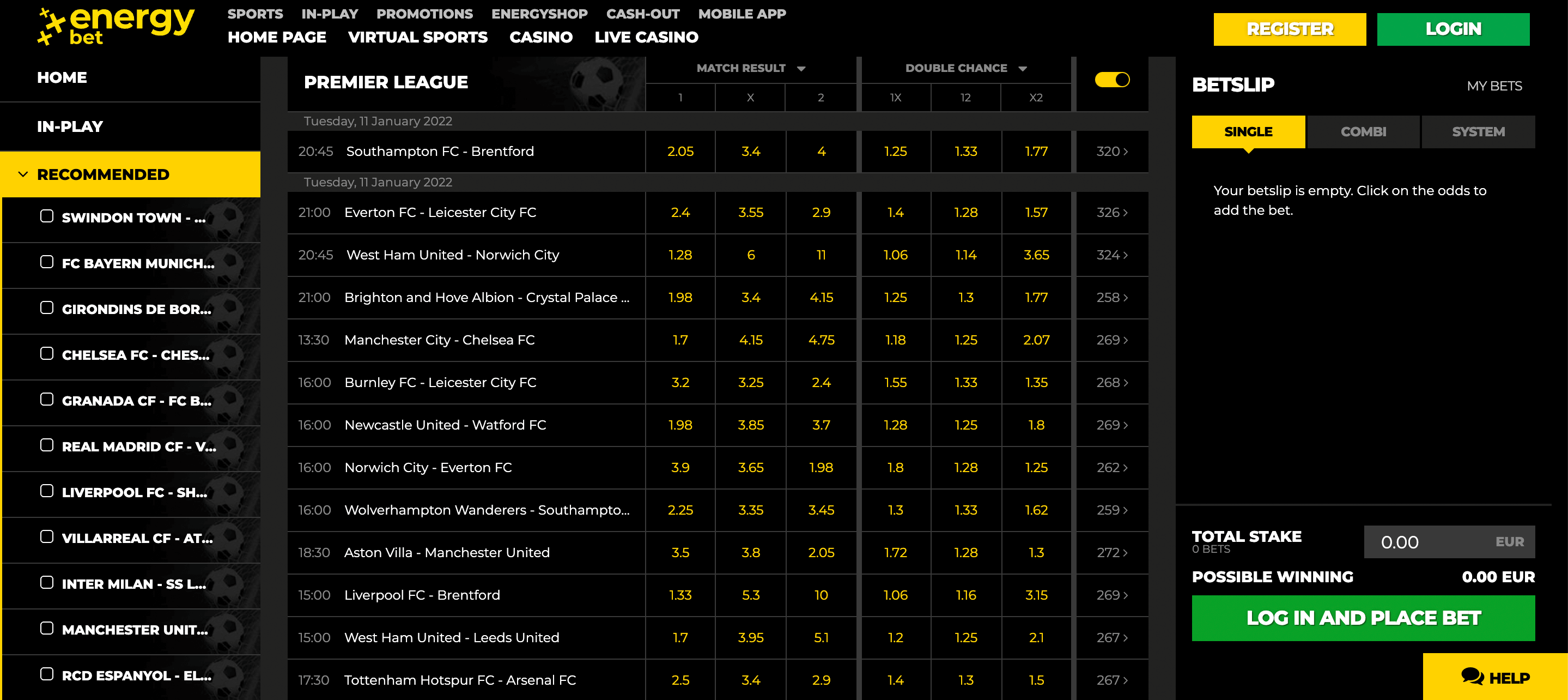 EnergyBet sportsbook has an ample collection of betting events that range from top sporting completion such as the UEFA Champions League and English Premier League to eSports tournaments and novelty markets such as Nobel Prize. From this brief overview, you already expect the betting options are diverse too.
Football is the competition with the highest betting volume at EnergyBet and has the most competitions covered. As at the time of writing —during the COVID19 pandemic— there were over 600 different betting events. Other sporting events that you can wager on include
Tennis
Handball
Cricket
Tennis
Baseball
Ice hockey
Basketball
The odds are competitive and way above its competitors. To put it into perspective, top football competitions have a payout of 95%+ for match winner market. Tennis and basketball have a payout of 92%+.
The sportsbook products are fantastic and in line with the latest trends in the sports betting industry. Some of the ingenious products include:
EnergyBet Live betting
Betting is fun when thrill is part of betting, and nothing comes close to the thrill EnergyBet customers' experience with the live betting portal. First, it is noteworthy to recognize the simplicity of the live betting portal. It is easy to access as it pinned on the top section of the homepage.
The live betting portal has two layouts, the conference view— the default layout— and single view. The conference view will show you a list of the games while the single view shows you a compact view of each game.
Similar to pre-match markets, live betting has a vast collection of games that you can bet live. You can use the live calendar tab to preview games that are roster for live betting, up to a week. And to make the betting experience more fascinating, EnergyBet provides players with match statistics and a match tracker.
Cash-out
EnergyBet supports cash-out and bettors can easily settle their bets before a match comes to an end. The cash-out works on live bets and pre-match bets. Similar to live betting, the EnergyBet cash-out is available on the homepage.
Bonuses & promotions: 100% Deposit Bonus up to €10 plus 100% Odds Boost!

EnergyBet comes jam-packed with exciting bonuses and promotions that keep its customer loyal. Interestingly, the bonuses come with reasonable wagering requirements. Let's examine some of the current offers.
Welcome bonus: New customers who open and fund their account with at least EUR/USD 10 receive a 25% matched EnergyBet welcome bonus. The bonus is to be utilised as an accumulator bet boost. You can use 25% of the bonus on one accumulator, and the odds will be boosted up to 100%.
Your betslip needs to have three or more selections with odds greater than 1.25 and aggregate odds of 2.5. Sadly, this bonus doesn't apply to U.K. residents and restricted to certain deposit methods.
Acca boost: They EnergyBet has raised the bar when it comes to accumulator boost. To take part in EnergyBet Acca promotion, you have to have a betslip with four or more selections, a minimum stake of EUR/USD 10.00, and total aggregate odds of 3.00. The maximum odds payout is EUR/USD 250. Below is a breakdown of the odds boost:
4 selections win pays 5% extra
5 selections win pays 10% extra
6 selections win pays 15% extra
7 selections win pays 20% extra
8 selections win pays 25% extra
Accumulator cashback: Every week, EnergyBet runs a cashback program for accumulator bets with a minimum stake of EUR/USD 10. The maximum cashback amount is EUR/USD 20. The bet needs to have at least four selections, and each selection needs to have a minimum odd of 1.20. Also, the bet should expire within seven days. Sadly players from the U.K. don't qualify for this offer.
VIP program: Being a loyal and 'whale' at EnergyBet comes with a good reward. Though, access to this world-class program is by invite only, if selected, be ready to roll like a badass VIP. You will enjoy complimentary tickets to real-world events, exclusive bonuses, insider information, and fully paid holidays, to mention a few benefits. Examples of real events that EnergyBet VIP customers have attended include David Haye and Tony Bellew fight, Euro 2016, and access to Porsche Cup.
Mobile gaming
As many businesses nowadays avail their services from mobile devices, so it is the case with EnergyBet mobile sportsbook. Players can deposit and wager on the go using hand-held devices. EnergyBet facilitates this from the EnergyBet sportsbook app and EnergyBet mobile.
The mobile version is optimised for mobile; therefore, it loads fast and adapts to all mobile devices. It is accessible from ordinary mobile browsers and doesn't require any technical configuration, such as additional software download to access the mobile site.
The EnergyBet mobile app provides for a smooth experience betting on mobile. The EnergyBet mobile app works on Android and iOS-powered devices. For Apple users, the EnergyBet app is available in the Apple store while Android users have to get the apk file from the EnergyBet website, under the mobile app section on the homepage.
During our EnergyBet review, we find the mobile sportsbook very light, easy to use and loads fast. We didn't experience any outages while using. We were impressed by the EnergyBet mobile bonuses and the availability of live betting, cash-out, and a wide range of baking options.
Payment Options
Players are always after a bookmaker that provides them convenience while depositing and at a low fee if possible none at all. EnergyBet ranks among the top betting sites that meet such standards. Players can make deposits using a wide range of banking options such as cards, eWallets, pay by phone bill, and bank transfer. Some of the banking options include
Skrill
Neteller
Paysafecard
Much Better
Qiwi
ecoPayz
Visa
MasterCard
Online Überweisen
Payment processing is fast, and players are reunited with their money in the shortest time possible. Of course, this depends on the payment method. However, most payment reflects in players' accounts in three days.
The minimum deposit amount is EUR / USD 10, while the minimum withdrawal limit is EUR/USD 20. The maximum withdrawal limit is € / $ 5,000. Whereas deposits are free, only the first withdrawal of the week is free. Subsequent withdrawals attract a €5 fee. If you withdraw money that you didn't wager, you attract a 5% administration levy.
Customer support
EnergyBet has a reliable customer support team that works round the clock resolving customer queries. While conducting this EnergyBet sportsbook review, we were impressed by the support team comprehension of all matters relating to gambling. Be it slow loading of games or your deposit can't reflect, ping them on any of the available contact options.
Email: support@energybet.com
Live chat
Phone: +44 20 808 958 87
Postal address: Suite 109, Level 4, Sir William Reid Street, Gzira, GZR1033, Malta
Unfortunately, live chat — which is the most reliable for many customers— is available Monday to Friday from 09:00 till 23:55 CEST and Saturday-Sunday from13:00 till 21:00 CEST.
Safety and reliability
EnergyBet takes the safety of its customer's information seriously. The company uses state-of-the-art technology to safeguard its customer's information. They use SSL encryption to make its site unassailable from cyber criminals.
Other measures include a compulsory KYC exercise for all customers before making the first withdrawal. As the sportsbook operates a closed-loop policy, you will be required to withdraw money using the same method you used for withdrawal. This helps curb money laundering.
Therefore, if you are still troubled as to whether EnergyBet is safe, yes, this sportsbook is 100% safe and secure. A license from the U.K. Gambling Commission and Malta Gaming Authority fortifies the trustworthiness of this site.
Verdict: A reliable sportsbook with a guarantee for safety
EnergyBet has come to spoil the party for already established sportsbooks and has landed with a bang. The sportsbook's product offerings are admirable and have serious rewards in terms of bonuses and promotions for its customers. Concerns such as safety are taken seriosly and should be stress-free for any bettor who uses their service.
But even as the sun has dark spots, and nobody is perfect; so are the cons with EnergyBet. First, the lack of live streaming doesn't settle well with some players. The company should quickly fill this gap as players are always after entertainment apart from betting. Second, the sportsbook should consider having 24/7 customer support as an issue may arise during offline hours.
Of course, EnergyBet takes these concerns seriously, and it's just a matter of time before they are addressed. At least we can give forgive them for some of these shortcomings, as they are relatively as they have been in the business for a short period.
Overall, this sportsbook exceeded our expectations and has the highest recommendation from our sportsbook review experts. Sign up now and enjoy an unmatched betting experience.
FAQ
Yes, EnergyBet uses the latest technology to protect its customer's information.

What is the minimum amount that I can deposit?

The minimum deposit limit is EUR / USD 10.

Does EnergyBet accept PayPal?

No, the sportsbook doesn't accept PayPal. However, you can use alternative methods such as Skrill, Neteller, MasterCard, Paysafecard, and Visa.

Yes, the site is legit and runs by licenses from the U.K. Gambling Commission and Malta Gaming Authority.

I have made a deposit, but the amount isn't reflecting in my account

Contact customer support immediately, and they will offer you a solution.