Decibet Sportsbook Overview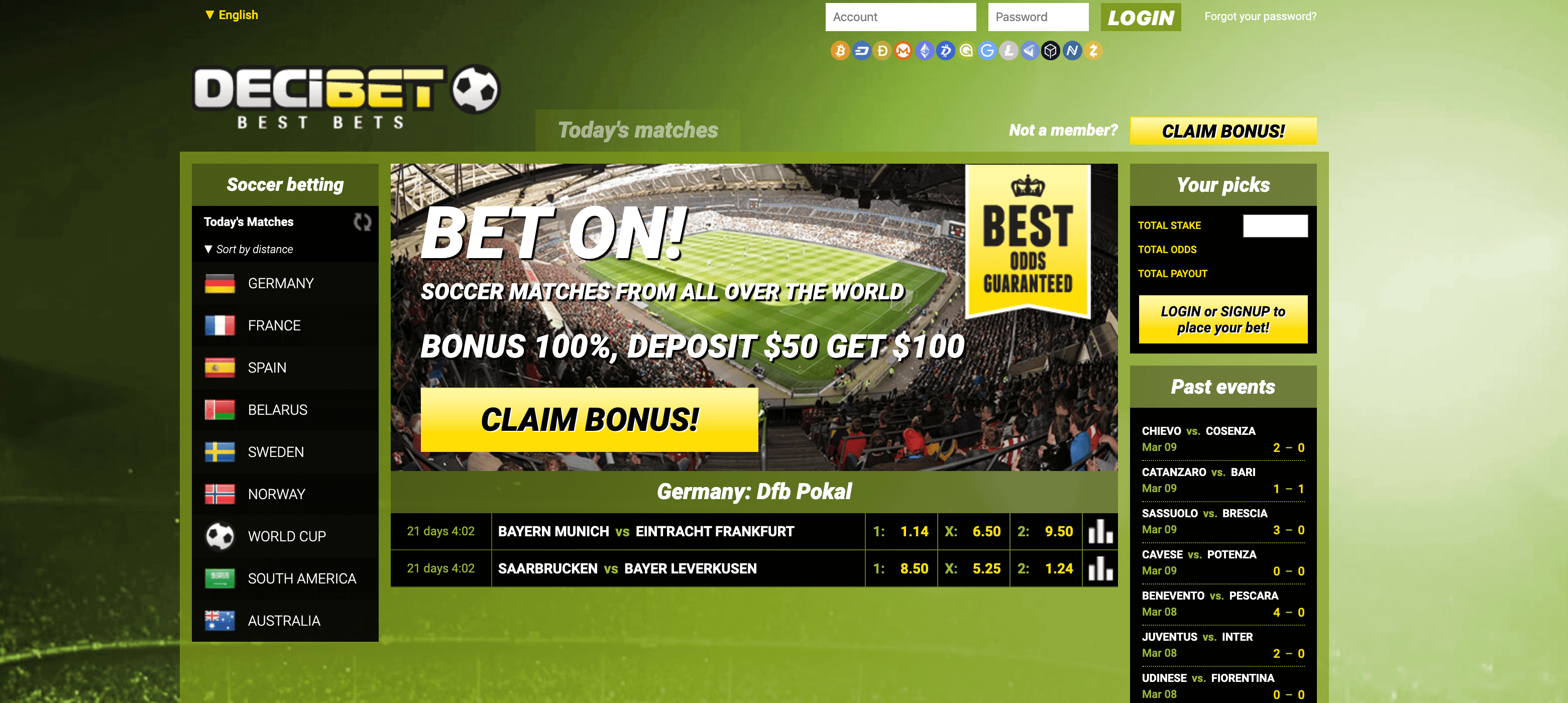 The sports betting industry has also immersed itself in blockchain. Nowadays, some bookies accept payments in cryptocurrency. The most recent online sportsbook to join the bandwagon is Decibet.
The bookie was designed to integrate the use of cryptos to offer the most convenient and fastest payouts. They calculate the odds and quotes every minute to enhance their players' winning options.
If you have always wanted to use a sportsbook that accepts cryptocurrency, Decibet is an excellent choice. It's an easy-to-use bookie that supports many cryptocurrency options. Another thing that sets this bookie apart is its choice to settle focus on only one market, football (soccer). Despite settling for one market, the bookmakers boasts a wide collection of football markets from popular competition such as UEFA and Europa leagues to less popular leagues such as Brazil Serie B, Sweden Superettan to mention a few.
Decibet doesn't compromise on its customers' privacy. It doesn't ask for any identifying information such as email addresses during the sign-up process. However, if you wish to have a better experience, they advise players to provide their email addresses while registering on the platform.
Quality of the Platform and Website Usability
Decibet's website is fresh and user-friendly, featuring information that is neatly arranged. The intention is to make it easy for everyone to access all their services. They have three primary sections placed at the centre of the page displaying the day's matches, the payment options, and the bet a player made and the details.
On their left section, you'll find a list of countries where you can click to see the available matches and leagues. On the right, you'll see your Past Events and Your Picks. The latter shows your bets, odds, stakes, and payouts. The far left corner is reserved for your current language. You can change it to the one you prefer.
To assist any players that don't speak English the platform supports six other languages, including Italian, Polish, Portuguese, French, Russian, and Spanish.
Games Available and Betting Options
As aforementioned, Decibet specializes in football, and they list dozens of such matches and leagues worldwide. They offer a large number of events for punters to choose from.
The list includes the popular and also less-known leagues from Brazil, England, Australia, Chile, Belgium, Argentina, Colombia, Algeria, Mexico, Spain, France, China, Tunisia, India, Israel, Germany, Norway, Holland, Sweden, and other South American, European, and Asian countries.
Competitive Odds
When it comes to odds, Decibet offers its players the best ones by implementing a complex mathematical algorithm and big data systems that digs deep behind every match and pick the best prices. This goes a long way in ensuing that player receive high odds and updated in real time.
Every punter understands that odds are a crucial element when it comes to placing a wager. The winning score assists typically the players in selecting the match with the highest possibility of winning.
Decibet Bonuses and Promotions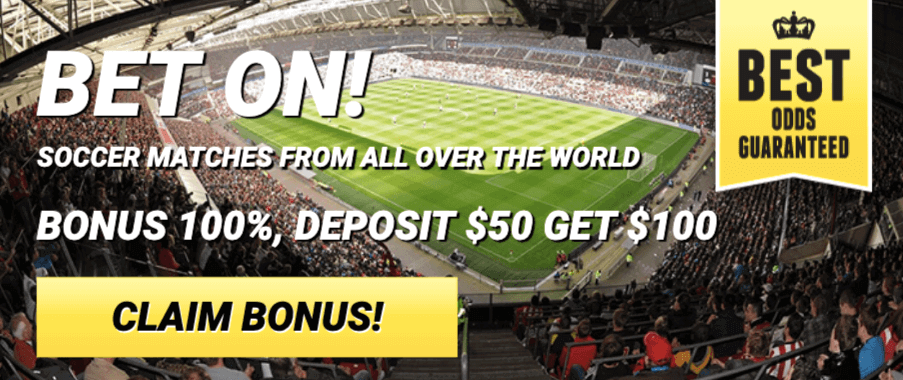 Sportsbooks use bonuses and promotions to motivate and attract players to their platform. Decibet does the same through the following rewards.
Welcome Bonus
When you register an account on Decibet, you'll be welcomed with a Desibet sign up offer in the form of a welcome bonus. It's 100% of your first deposit, which is up to $100. As a new punter on the site, you can use the Decibet welcome bonus to place more wagers and have a great betting experience.
Referral and Affiliate Program
All their players can also benefit from other rewards, including their referral program. Whenever you refer a friend to the platform, you earn using the program. Also, affiliates can cash some bucks using Decibet's affiliate system, which you can access through Affiliada.com.
Due to how they conduct their business (use of cryptocurrency), Decibet has attracted a lot of partners from all over the world. If you wish to partner with them, join their affiliate program, and enjoy reaping the benefits. Their approach to football betting ensures that players keep with the trend and benefit from it by using crypto.
Decibet Payment Methods

As mentioned earlier, they only accept payments in cryptocurrencies. They support a wide range of cryptos to cater to every kind of cryptocurrency owners. Players can wager and cash out their payouts sing the following digital coins and tokens: Ethereum, Bitcoin, Dash, Litecoin, Dogecoin, Zcash, Monero, Ethereum Classic, Bitcoin Cash, Ripple, Vertcoin, Namecoin, Digibyte, MaidSafeCoin, Game Credits, Gulden, Blackcoin, Syscoin, Vertcoin, PotCoin, Lisk, and Stratis.
With most bookies, players have to wait before they can use the deposited funds or receive their payouts. However, this is not the case with Decibet. With them, you can make instant deposits, and also players enjoy instant payouts once their bets have been established to be the winning ones. All you need to do is choose the crypto you wish to cash out with. You will not have to pay any extra fees either.
Decibet Customer Support
If you get stuck while using the platform, don't fret it. You can always get in touch with their support staff. There are two ways you can do that. The first one includes you sending them an email, which they respond to within 24 hours.
The second way to get in touch with them is by filling out the provided form under the 'Contact' section. It would be great if they also included a live chat option for their players. That way, they would always get instant help and not have to wait for almost 24 hours to get a reply to their question.
Safety and Reliability
Decibet doesn't allow underage players on the platform. To start betting on the site, you have to be 18 years and over. Also, by the fact that they don't ask for email addresses or your credit/debit card details means that you don't stand a risk of identity theft or cybercrime. The bookie is one of the many you can trust 100% when it comes to safety and reliability.
Verdict
To conclude this Decibet sports review, it is right to say that it's a reliable sportsbook that is ideal for players prefer betting football and are conversant with cryptocurrency. If you are a tech-savvy punter and you have interest in crypto, you should give this bookie a try and see how it goes.
They have a good selection of football games from all over the world, and you will find very competitive odds when placing your bets.
There are a few things they need to consider though. Lack of live chat for their players is a setback. They should also consider adding more sports and markets for those who are not football fans.
A mobile app would also be great as people are moving into mobile gaming. However, if you are a football fan who would rather use cryptocurrency as your deposit and withdrawal methods, try your luck with Decibet sport today.
FAQ
What currencies are supported at Decibet?

Decibet only accepts cryptocurrency such as Bitcoin, Ethereum, Litecoin, Blackcoin, Bitcoin Cash, Dash, Lisk, Ethereum Classic, Monero, Ripple among others.

Will I get a welcome bonus for joining Decibet?

Yes. You will receive a 100% matched welcome bonus up to 50€ if you register with Decibet and fund your Decibet account.

Can I place live bets at Decibet?

Yes. Decibet has an In-Play feature that enables you to place bets on live events and matches.

What should I do if I forget my Decibet account password?

You can create a new Decibet password by clicking on the "forgot password" link on the top right side of the Decibet website, then follow the instructions.