Overview
Bet-at-home is the brainchild of Franz Omer and Jocken Dickinger. Since its launch in 1999 in Austria, it can be considered as one of the best online sportsbook as evidenced by the over 4 million subscribers. The company holds a gambling license from the UK gambling commission and has offices in Austria, Malta, Gibraltar, and Germany. Although it offers casino games under its portfolio, sports-betting is its main forte. As part of its corporate social responsibility program, Bet-at-home sponsors football clubs such as; SV Ried, Hertha Berlin, Austria Wien and Schalke FC.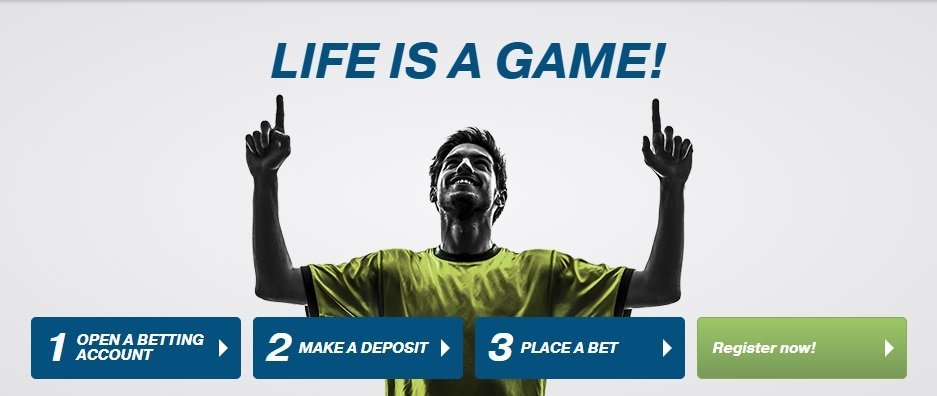 Quality of the platform and website usability
Bet-at-home is widely liked and accepted by players courtesy of reliability and integrity. The site is not cluttered, and navigation of the site is quite simple even to novice players. On top of the site, you have a navigation bar with the range of services offered by this gaming site. The background colour of the site is a soft blue, grey, and some green, which are not irritating to the eyes although it might seem dull compared to other new gambling sites. The most interesting and unique feature of this sportsbook gambling site is that punters can add clicked pages to the main section instead of opening them in a new page. This is so amazing, don't you agree?
The landing page of this gambling site has all the information a player needs to navigate quickly to their preferred action item. However, all this information may be viewed as some to be aesthetically too much for a landing page.
Games available and betting options
The primary sport offered by Bet-at-home to players is football, but to players who are not into football can place their wages on; basketball, tennis, volleyball, ice hockey, winter sports, darts, American football, handball, rugby (both rugby league and rugby union)and, motorsports. This sportsbook has not forgotten e-sports fans. It has markets available for e-sport fans of Dota 2 and League of Legends.
Bet-at-home also provides to punters virtual sports that they can wager on. Football and basketball are the most popular, although it also has virtual tennis, horse racing, and dog racing available. The video rendering for these virtual sports is of the highest quality and is based on real-life game situations ensuring excitement for the bettors.
The bookie also has a society tab which allows bettors to place wagers on events such as; successful human-crewed missions to Mars, the BBC sports personality of the year, Nobel Peace Prize recipient, among others.
Before getting to the betting options available at this gaming site, you will have been provided all the necessary information you need to make a smart wager.
Bet-at-home site contains pages for Livescore as well as statistics on various teams and the leagues they play in. Information provided on these pages is the historical team performances as well as the team sheets. With the information gained from the above pages, you can now go ahead and place a bet. Bet-at-home subscribers have available to them all the classic betting options such as Single bets, multi-way bet, Combi bet and System bet.
Apart from these classic options, Bet-at-home has gone ahead and provided to gamblers in-play betting option popularly known as live betting. This is for punters who are late on the action to still take part in it albeit a little late and at reduced odds. The best thing about this is that Bet-at-home has also provided a live streaming feature. Watch live an event and based on the action, make an in-play bet then sit back and enjoy the action as you make money. Live streaming can either be viewed in, Combi view, calendar view, or, classic view.
This sportsbook also has a cash-out option. This is a feature that allows players to get out of the action before an event is concluded. The only problem we have is the fact that this option is only available for single bets and Combi bets. The site also has a disclaimer that it holds the rights to withdraw this option in case of an error in a settlement, abuse, or, an error in odds.
The minimum betting stake on any event is £1 while specific event requirements guide the maximum stake.
Bonuses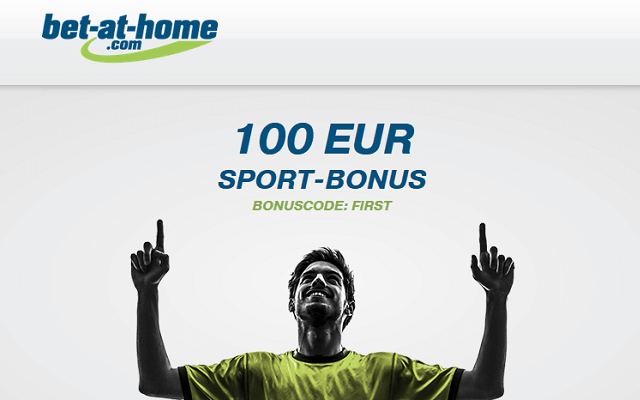 Bet-at-home lags when it comes to promotions. Except for competition based promotions and bonuses, this sportsbook review until recently was not known to offer any other types of bonuses and promotions. However, the site has decided to compete with other big boys in the club by providing all newcomers with a deposit bonus of 100 Euros that are used for sports betting. This bonus is activated through the bonus code FIRST and involves a 50% match to the first deposit capped at 100 Euros.
Players should ensure that they read through the terms and conditions to ensure they abide by all the requirements for them to enjoy this bonus fully.
Mobile gaming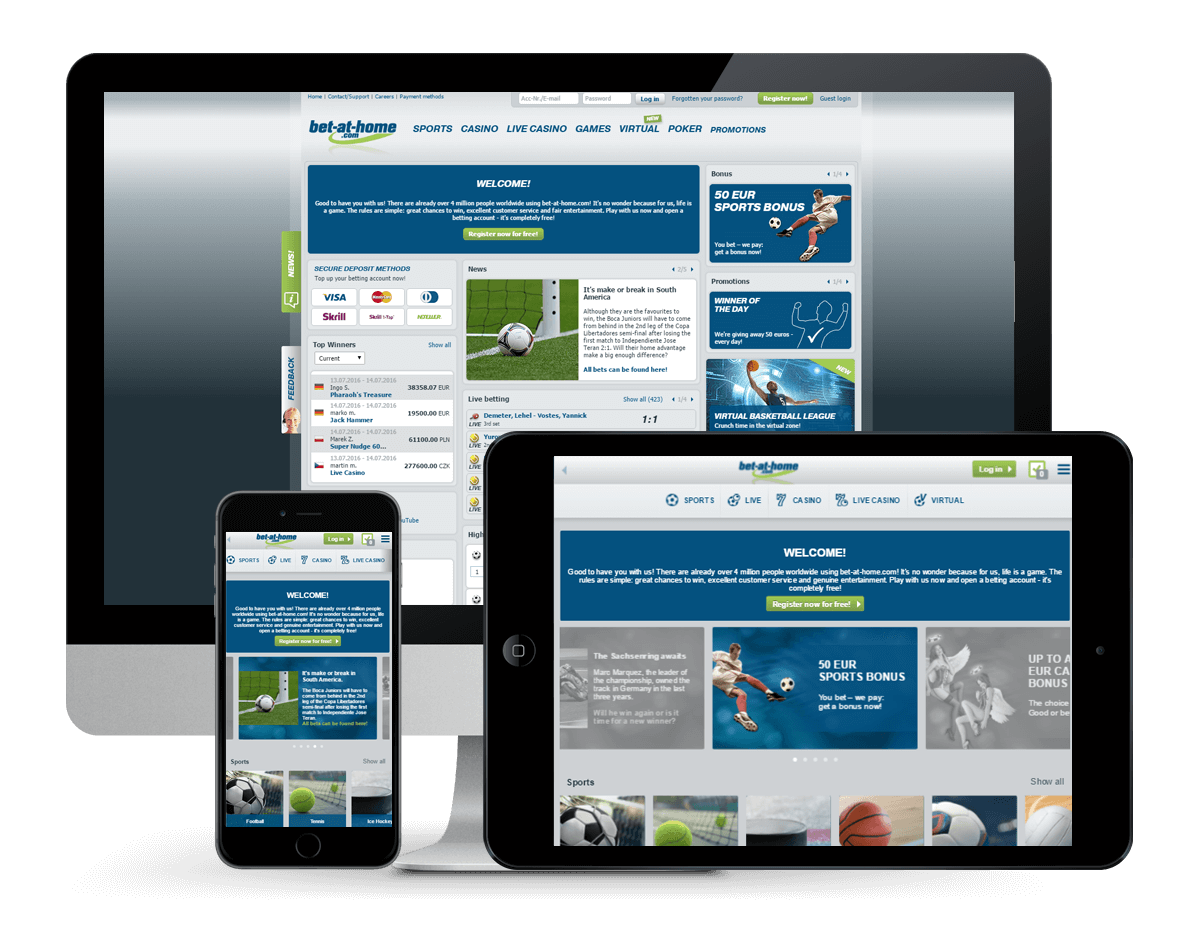 During this Bet-at-home sportsbook review, we established that the mobile gaming is even better than the main site, a view that was similar to other players. Their mobile gaming is through an app known as Sports Maps available for both the IOS users as well as the Android users. This app gives players the location of upcoming sports events in the world as well as the betting odds coupled to these events. The site also has a mobile-optimized betting site for gamblers betting on the go.
However, you should be aware that UK players will still have to wait for a mobile betting app to be made available to them.
Payment Options
A click on the sites tab for general terms and conditions gives you a glimpse into all the available deposit options as well as the minimum deposit amounts per method and the time taken to process. It also provides the same information regarding withdrawal. To fund an account, you can choose from among the options below:
E-Vouchers
Fast Bank Transfer
Neteller
Skrill 1-Tap,
Visa
MasterCard
Skrill
Paysafe Card
Trustly
Diners Club
All the above payment options require a minimum deposit of £10 except for paysafecard whose minimum deposit is £5. There is no capping on the maximum deposit for all of these deposit methods. The time taken to process a deposit transaction for all these methods is instantaneous except for bank transfers that take up to three working days.
To withdraw your winnings, it is advisable to use the same method used to deposit. However, not all the deposit methods are available when withdrawing, which is somewhat inconveniencing to some players.
Customer support
Bet-at-home is known for its fast response to customer queries. To ensure that it serves all its subscribers from all over Europe, it offers customer support in 15 different languages. For any technical or gambling questions, you can reach the support team via the following options:
Email at service.en@bet-at-home.com
Live chat through the sites live chat dialogue box
Phone Call via +35 620 102 577
Safety and reliability
This is a site known for its reliability. It also does not sell or share information with third parties ensuring the information confidentiality of its subscribers. At the closure of a player's account, all info coupled to that account is deleted to ensure privacy.
Bet-at-home is also a member of several bodies involved and advocating for responsible gambling such as; German Sports Betting Association (DSWV), German Online Casino Association (DOCV), European Society for the Study of Gambling (OSHA), and, e-Commerce Online Gaming Regulation and Assurance (eCOGRA). These institutions are also known to champion for fairness and transparency in betting.
The site has also undertaken measures to secure its site by securing its website through the use of a secure connection that is encrypted using 256-bit keys. This secure connection makes information in transit between the browser and web server unassailable. This encryption standard is even used by financial institutions. Besides the secure connection, the company uses a firewall for its private network access. This keeps off its intranet site and other confidential company information safe from cyber-attacks.
Verdict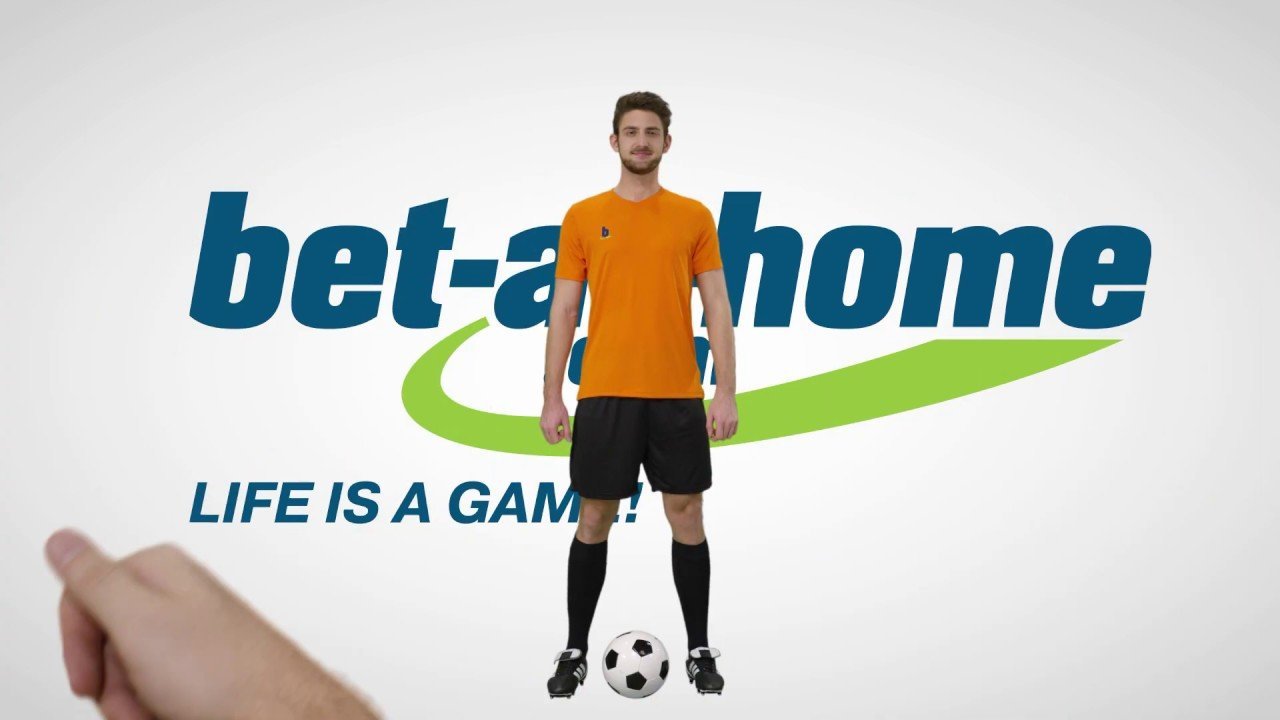 For sports lovers, this should be the first site of your choice. The wide range of markets offered, as well as the slightly above average odds value make this sports bookie a contender for the list of best sportsbook gambling sites. The excellent customer service and almost instantaneous feedback on queries also speak volumes to the view this site has regarding its subscribers.
Final word, if as a player you want to feel valued while getting all the sports events you can think of to bet on, look no further than Bet-at-home.
FAQ
Does Bet-at-home offer a welcome bonus to its new players?

Yes. New players at Bet-at-home qualify for a 100% matched bonus up to 100 EUR after signing up and funding their Bet-at-home account.

Should I have a bank account in order to make payment at Bet-at-home?

No. Bet-at-home gives you a variety of payment options to choose from such as Skrill, Dinner Club, Neteller, Skrill 1-Tap, Trustly, MasterCard, Visa, and Paysafe card among others.

What is the minimum deposit amount at Bet-at-home?

The minimum deposit amount is £10 across all payment methods except for Paysafecard which has a minimum deposit of £5.

Does Bet-at-home offer a live betting?

Yes. Bet-at-home provides a live betting feature for its players to enjoy placing live bets on live matches.

Does Bet-at-home support mobile gaming?

Yes. Bet-at-home has a mobile app for both iOS and Android devices known as Sports Maps. However, this mobile application is currently not available for UK players.