Overview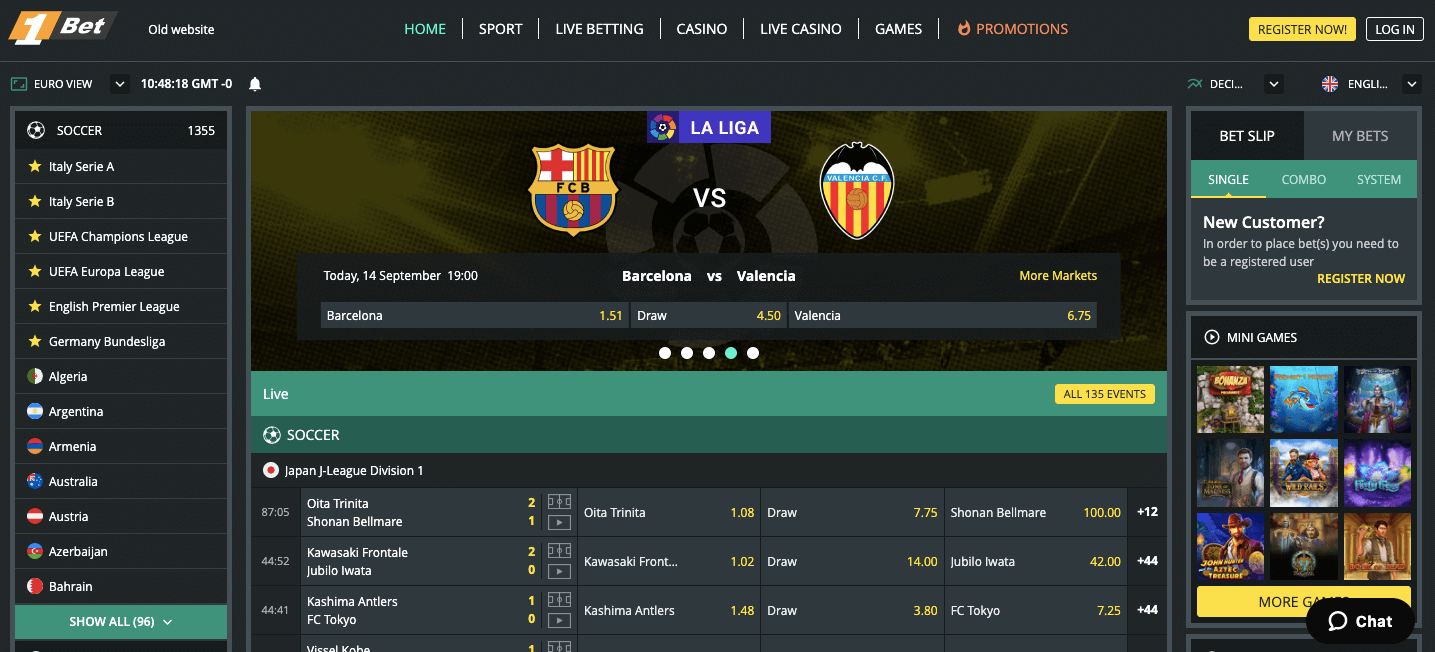 If you are in the market for the best online gambling site, look nowhere else. 1Bet is one of the best sportsbook gambling sites which was founded way back in 2011. Consisting of a portfolio of more than 450 games, 1Bet is available in a host of languages such as German, Spanish, Greek, and Romanian. Styled in a blue theme, 1Bet is aesthetically appealing and first time visitors have reposted a cool ambience interacting with the site. In this 1Bet sportsbook review, you are going to learn about 1Bet attributes such as the quality of their betting platform, games available, payment options, bonuses, safety, mobile gaming, and customer support among others.
Quality of the platform and website usability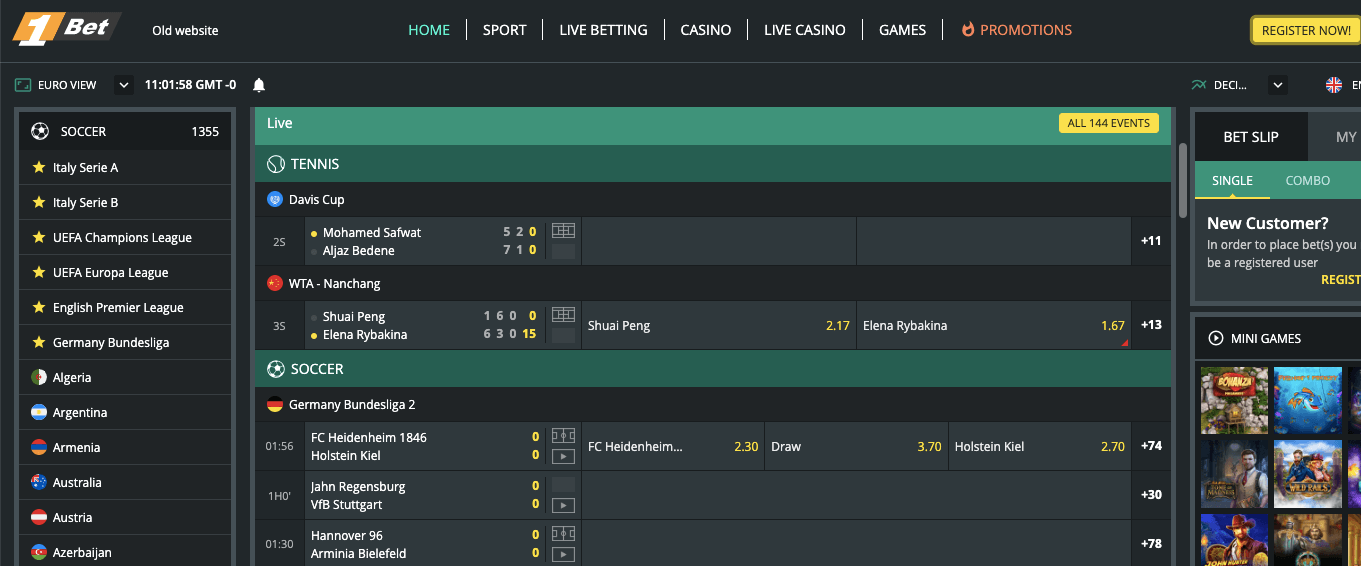 1Bet has one of the best betting platforms that consist of handy tools to make a players' betting experience simple. 1Bet's website flows logically and very clear on where some of the most important information is found. 1Bet's website is designed for usability and consists of an easy to use interface. Among some of the best gambling sites around, 1Bet comes in as one of the best. Games are displayed with three betting options –win-draw-win- even though a user/player can click on the expand button to explore other betting options of his or her choice.
1Bet has got a search bar where players can use to look for their preferred games based on competition, league, and team names among others. On top of 1Bet's right section are two menus; register now and log in. 1Bet's website has got one of the most impressive loading speeds with no interruptive advertisements.
Games available and betting options
There is a wide variety of games that can be found at 1Bet for players of all cadres. At 1Bet, there are more than 20 sport games available for players to choose from. Some of the sport games that players can bet on include the following.
Football
Tennis
Ice hockey
Basketball
Cricket
Volleyball
Basically, 1Bet offer players a heck of sports options. All the sports that you can bet on at 1Bet are properly listed on their site. Live streaming at 1Bet is available across a wide range of sports such as ice hockey, football, basketball, and many others. At 1Bet, there are plentiful of betting options that include 1×2, as well as others such as unders/over, team to score next, number of corners, players to score, and handicaps among others.
Overall, when it comes to the number of games and betting options available at an online gambling, 1Bet ranks high.
Bonuses

Do you know why sportsbooks give away a lot of merchandise and money "for free"? There are reasons as to why they do so. Sportsbook offer bonuses in order to attract customers encourage their dormant customers to come back, and reward their existing clients. Sportsbook bonuses are offered by plenty of bookmakers, and 1Bet being one of them.
Some of the bonuses offered at 1Bet include Free Bet bonus, Cashback Bonus, Welcome Bonus, Second Deposit Bonus, and Third Deposit Bonus among others. Examined closely, 1Bet bonus has got plenty of bonuses aimed at attracting and retaining their clients. Of importance to note is that bonuses offered here such as 1Bet welcome bonus and others come with some terms and conditions that have to be adhered to.
For instance, to get 1Bet's free deposit bonus, all you need is to follow the following steps:
Have a valid account of 1Bet
Deposit the required minimum amount (it's mostly 100€)
Stake your initial bet for any league or sport
Mobile gaming
1Bet has got a dedicated app that gives players a chance to bet from anywhere. The online bookmaker gives players have the option of playing from the mobile app or their respective mobile browser. The mobile apps are available on both Android and iOS store. The mobile site is adaptive for mobile use and is accessible from ordinary mobile browsers.
With 1Bet's mobile gaming, players have a chance to carry out betting as they would do on desktops or laptops. Transactions such as making deposits and withdrawals among others can be conducted on phone and on the move.
Payment Options
The banking options that are available at 1Bet deserves a lot of credit. Unlike other gambling sites that consist of limited banking options, such is not the case with 1Bet. Best sportsbooks are those that accept a wide variety of payment options to accommodate players from different regions. 1Bet's available payment options that players can utilize include:
MasterCard
1 – Tap
Visa
Skrill
Europay
Giropay
Netpay
Enet
Laser
Web Money
Paysafe
Solo
POLi
Skrill
Diners Club International
Maestro
At 1Bet, bank transfer comes in as another option for bettors or players that are not accustomed or well versed with electronic wallets or don't want to use their credit cards for purposes of gambling. One good thing about 1Bet is that players don't pay or incur any deposit charges unlike other sportsbook gambling sites where charges may apply. Players with any questions that are related to payment methods can find swift assistance from 1Bet's efficient and responsive customer service team.
Customer support
Even though there are two options where players can use to contact 1Bet, the good thing is that they work perfectly. In case you have a longer and somewhat complicated inquiry, there's no need to worry as you can send an e-mail that will be answered promptly. Better yet, 1Bet has got a live chat option for assistance and it's noteworthy to say that its service agents are actually more than helpful and swift with their information.
A little drawback with 1Bet is that there no phone number available where players or bettors can call in the event that they encounter some difficulties or have got some complaints. Regardless of the games on offer, 1Bet's customer support services are readily available for assistance. The professional and friendly customer support/assistance at 1Bet work round the clock and are fluent in Russian, German, Greek, and English. For quick assistance, contact them via email, live chat or post any question and suggestion(s) that you have on their Twitter and Facebook accounts.
Safety and reliability
You need to have peace of mind when dealing any online place that asks for personal information. 1Bet has taken some of the best measures to ensure that its clients are secure from all risks. 1Bet uses a secure connection encryption on its site which prevents any eavesdroping while data in being transmitted between the browser and web server. The company also has requires players to produce verification documents which are scrutinised to root underage and profiled players which keeps the site secure. Of importance to note is that the bookies operations are regulated by the government of Curaçao. This implies that the bookmaker is bound by strict rules that govern the industry.
Verdict

There is a lot of evidence suggesting that the final score of 1Bet is high and impressive. Overall, 1Bet has got plenty of qualities that make it a favorite sport betting site. The website's design and color themes are impressive; the quality of the graphics and overall impression is astounding. 1Bet has got plenty of sports markets, a live chat option, and plenty of payment options available. There are claims that in the near future, 1Bet will become a household name depending on its user-friendly website, best sportsbook bonus, and plenty of gaming and deposit options available. By examining at this 1 Bet review, chances are that it will feature as one of the best sports betting site around as time goes.
FAQ
Does 1Bet offer live betting?

Yes. 1Bet.com provides live betting services to its players in a wide range of sports such as Football, Ice Hockey, Basketball, Volleyball, and among others.

Will I receive a welcome bonus if I join 1Bet?

Yes. You qualify for a 100% matched sign up bonus up to 100 Euros if you create a 1Bet account and fund it with a minimum deposit of 10 Euros.

Is there a mobile app available for 1Bet?

Yes. 1Bet.com has a mobile application for Android and iOS devices that players can download. Still, you can use the 1Bet mobile adaptive site to access 1Bet.

How safe is my information with 1Bet?

1Bet uses secure connection to for its website access. That mean all information is routed through a Secure Socket Layer (SSL) encryption making it unassailable.

What payment options can I use on 1Bet?

Some of the payment methods you can use include MasterCard, 1-Tap, VISA, Skrill, Giropay, Enet, Laser, Europay, Netpay, Web Money, Paysafe, Solo, Poli, and Maestro.